6,000 miles in one year
This year, Clinical Nurse Specialist Janet Hanwell cycled from Lands End to John O'Groats for The Royal Marsden Cancer Charity. Here she tells us more about why she took on her cycle challenge.
This year I have cycled nearly 6000 miles – 980 miles of those from Land's End to John O'Groats over nine days in aid of The Royal Marsden Cancer Charity. I juggled my work as a Clinical Nurse Specialist in The Royal Marsden's Oak Drug Development Unit (ODDU), funded by the Charity, with training up until the challenge in September.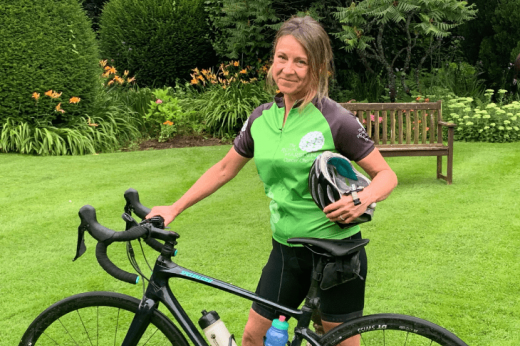 The Land's End to John O'Groats Cycle Challenge
Losing my dear friend, Brian, to oesophageal cancer in early 2020 made me reflect on how much advancement I have seen in cancer treatments in my 30 years at The Royal Marsden but also realise there is still so much more to do.
The cycle challenge itself was hard going at times and after a long day of cycling more than 100 miles I was camping at night. I think the lowest point was when I fell off my bike and injured my knee but fortunately no serious damage was done, and I was determined and able to finish.
I did the cycle challenge in honour of Brian and all the incredible patients and families I've met affected by this devastating disease in my three decades working in oncology.
Throughout Brian's treatment he showed outstanding courage and resolve, and he didn't let the cancer or treatments get in the way of living his life to the full. Many happy memories were made in the last few years of his life. I see this "can do attitude" in so many of the patients I see every day in the ODDU.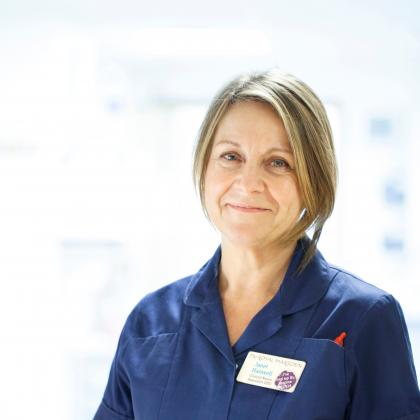 When people ask me if my job is depressing, I say it is quite the opposite, the role of genomics and targeted drugs have revolutionised the treatment of some cancers such as melanoma, lung and ovarian cancers in the past 10 years.
Patients with cancers that used to be untreatable are now experiencing better outcomes, but some cancers have proven to be more challenging.
The Charity has such an enormous impact on the research and development of new cancer treatments at The Royal Marsden. In the ODDU we offer patients with advanced cancers hope when they have become untreatable with other standard therapies. By the time patients attend our 'new patient' clinic in Sutton, they have already been through a lengthy journey as a cancer patient. 
We offer access to early-stage trials and along with our academic partners The Institute of Cancer Research we translate science from the laboratory into treatments to benefit our patients and patients worldwide. The Royal Marsden is at the forefront of pioneering new treatments, and I feel very proud to work here. Every year we strive to make a difference and improve treatments for our patients. 
More like this
Discover more inspiring stories like Janet's on our blog.