Saving lives - The importance of early diagnosis
This year, we funded a new Early Diagnosis and Detection Centre. Here Dr Hardeep Singh Kalsi tells us about pioneering research taking place there, and Dheeresh tells us how his early diagnosis has helped his family.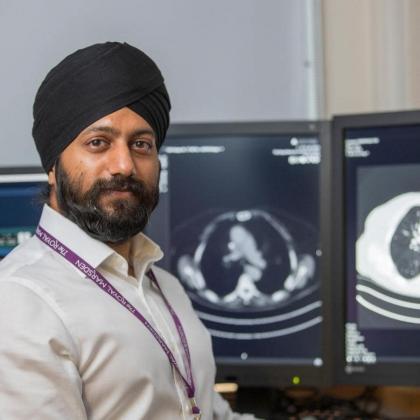 Thanks to our generous supporters, we were able to fund a new virtual Early Diagnosis and Detection (ED&D) Centre, which opened this year.
Dr Hardeep Singh Kalsi, a respiratory registrar and clinical research fellow funded by the Charity, and other researchers at the ED&D are using the latest screening technologies combined with Artificial Intelligence (AI) to identify people at higher risk of cancer and diagnose them earlier.
When a patient's cancer is diagnosed at an early stage, there is a much greater chance of being able to treat the disease successfully, so this research will make a life changing difference for people diagnosed with cancer.
Here, Dr Hardeep Singh Kalsi tells us more
A Q&A with Dr Hardeep Singh Kalsi 
So, can you tell us more about the ED&D centre? 
This year, thanks to Charity funding, we established the virtual Early Diagnosis and Detection Centre (ED&D) to help speed up diagnosis and improve outcomes for patients by using screening technologies like Artificial Intelligence (AI) and pioneering diagnostics to detect cancer at its earliest and most curable stage.
So how can AI help diagnose cancer? 
I specialise in AI. The scope it [AI] has to transform the way we diagnose, treat and manage patients in the future is promising. Already, AI can help us detect patterns in clinical scans and records that may identify patients who might be at increased risk of cancer or review test results to alert clinicians sooner. It can also be potentially applied to identify pre-cancer states, cancer sub-types and predict clinical behaviour including risk of relapse.
How is AI involved in your research? 
Recent research has shown that patients who survive cancer are more likely to develop another cancer in their lifetime compared to those without any cancer history. Lung cancer is the leading cause of cancer related deaths worldwide, and in recent work, also suggested to be the most common cancer to develop in cancer survivors.
A new study we opened this year called, 'AI-SONAR', is exploring AI approaches to lung nodules on CT scans in patients previously cured of cancer. Our aim is to see whether this can improve early diagnosis of cancer relapse in the lung or new lung cancers and thereby improve treatment prospects and long-term outcomes for patients.
How will AI help patients? 
Sometimes, scan findings are labelled as inconclusive and require repeating to monitor for change or concerning behaviour that might indicate a cancer or other disease. This can be stressful for patients during a period of 'watchful waiting', however, AI may enable earlier diagnosis and reduce anxieties for patients.
It has been an exciting year and we have much to look forward to in 2022. We hope our pioneering work will provide a springboard on a wider scale, to benefit all cancer patients across the UK.
Patient Focus - Dheeresh
Patient Dheeresh Turnbull, 69, was diagnosed with prostate cancer through a research study; one of the many research projects the ED&D Centre is running. The study is investigating the role of genetic profiling for risk of prostate cancer in men from the general population and aims to diagnose cancer earlier.  
Dheeresh, who was referred to The Royal Marsden where he underwent robotic surgery in May this year to remove part of his prostate, said: "I was so shocked as I had absolutely no symptoms at all and would never have known this diagnosis so early on if it wasn't for joining the trial. If it hadn't been discovered at that stage, I could be in a really bad way later down the line.  
 "I was told by the clinical teams that a relatively low prostate specific antigen test (PSA) score can still be harbouring a life-threatening tumour if the person falls in a certain genetic group. I am in this group and never knew! I have a family history of cancer but not prostate."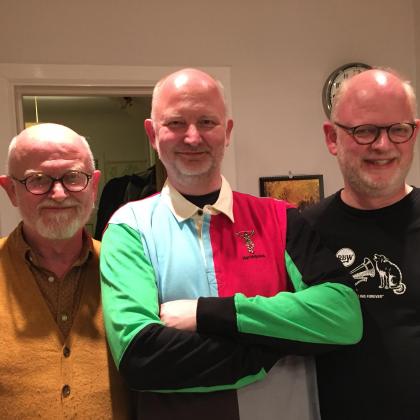 "Because of the policy of allowing relatives of cancer patients to also join the study - and given the importance of genetics here - I contacted my brothers about what had happened to me.
My youngest brother Joel, who would have been too young to join the study directly, signed up and discovered that he also had an aggressive tumour in the prostate, and is now recovering from his operation at The Royal Marsden! So two lives have now been saved in this family!"  
We know that 1 in 2 people will have a cancer diagnosis in their lifetime. To have the best chance, they need to be diagnosed as early as possible so that they can be treated before their cancer has spread.
We are only able to fund initiatives like the Early Diagnosis and Detection Centre, and clinical research fellows like Dr Hardeep Kalsi with the help of our generous supporters.
Help us continue funding vital work like this by making a donation today.
Donate today
Help us fund more life saving work like this by making a donation