Alastair's CyberKnife treatment to target cancer in his brain
How Alastair – diagnosed with stage 4 testicular cancer that had spread to his brain – benefited from CyberKnife technology at The Royal Marsden.
Alastair was just 29 when he was diagnosed with stage 4 testicular germ cell cancer in 2019 – a rare type of cancer that affects the cells that develop into sperm and eggs.
The cancer had spread to several other parts of his body, including his brain, and he has since needed multiple surgeries and treatment: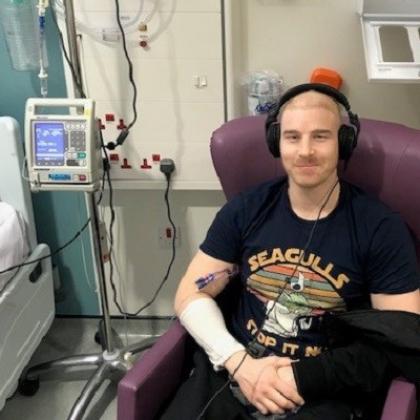 "Within 24 hours of my diagnosis, I was at The Royal Marsden starting treatment. I've since had:
around 230 infusions of chemotherapy
open abdomen surgery
an orchidectomy (removal of a testicle)
stem cell transplants
two brain operations
CyberKnife radiotherapy to target the spread in my brain"
Now 32, Alastair believes that the CyberKnife radiotherapy on his brain has helped to save his life: "It's an incredible machine – it almost seems like it's magic."
"I feel so lucky and am currently riding such an optimistic wave of rejuvenation. The love I have for the staff at The Royal Marsden is difficult to put into words. Being treated somewhere with such world-renowned specialists is so reassuring. Without this hospital, I don't think I'd still be here."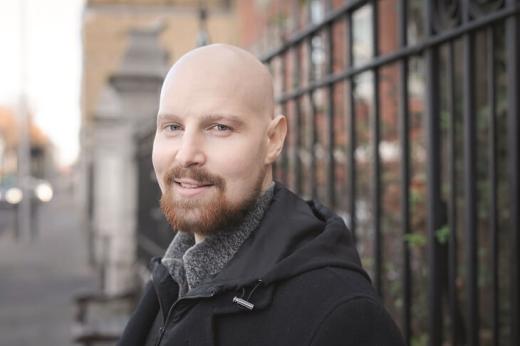 What is CyberKnife?
CyberKnife is the first and only machine to use a robotic arm to deliver radiotherapy with pinpoint accuracy. The robotic arm moves around the patient and can be positioned at almost any angle, so it is ideal for treating hard-to-reach tumours, like those in the brain.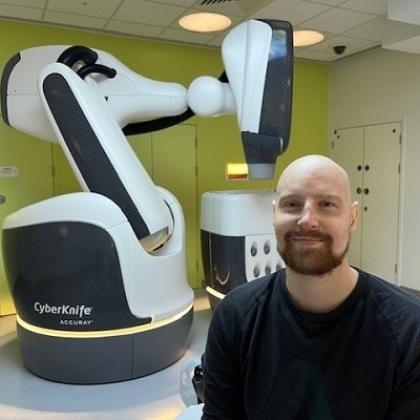 Helen Taylor, Lead CyberKnife Radiographer, says: "The Royal Marsden has one of the largest radiotherapy departments in the UK, delivering the very latest technology thanks to investment into two CyberKnife machines, which were both funded by The Royal Marsden Cancer Charity."
As well as treating over 4,400 patients, The Royal Marsden uses CyberKnife technology in international research to improve radiotherapy treatments across a range of cancers. One example is the PACE-C trials – funded by gifts in Wills left to the Charity. This is looking into whether prostate cancer can be cured in just five treatments.
Providing patients with peace of mind
Helen Taylor adds: "Standard radiotherapy can be quite demanding. But using CyberKnife means that patients can be spared numerous visits to hospital and will experience fewer side effects, allowing them to get back to their lives sooner. For those who can receive radiotherapy with CyberKnife, it's really transformed their treatment."
Alastair had the same experience at The Royal Marsden: "Having the CyberKnife treatment and knowing that it was only targeting the harmful areas in my head, and avoiding the healthy tissue, was very reassuring. I had full confidence in the machine before I'd even started treatment."
We fund state-of-the-art equipment
More and more patients like Alastair are benefitting from precision radiotherapy delivered by CyberKnife machines, supported by The Royal Marsden Cancer Charity.
Donate now and help us to continue investing in pioneering equipment.  
Discover more stories of hope on our blog.