Avoiding 'jaw-splitting' surgery with robotic technology – Robert's story
After a recurrence of tonsil cancer, Robert reflects on how transoral robotic surgery at The Royal Marsden helped him get 'back to his old mischief'.
62-year-old Robert from Halifax, was diagnosed with tonsil cancer in 2003 which returned in 2020. Robert's local hospital said the only option they could offer was open 'jaw-splitting' surgery, which he worried would severely impact his quality of life, including his relationship.
He said: "When I found out the cancer had returned, I was devastated – my life had already been turned upside down. I had separated from my wife the previous year, and was the full-time, single parent of my children, who were only six and eight at the time. I had also just started a new relationship and was worried about how the diagnosis would impact us.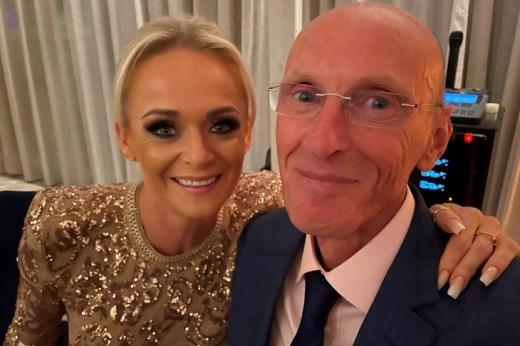 "I was initially offered open surgery, which would have involved splitting my jaw apart and could have been very destructive. There was also the risk I wouldn't heal well because of osteoradionecrosis resulting from my earlier radiotherapy treatment. This is a condition that results in bone death."
"I had heard of someone with the condition who was frightened about not being able to kiss her grandchildren. The prospect of not being able to kiss my girlfriend or children again was awful."
Transoral robotic surgery at The Royal Marsden
After researching other options, Robert asked to be referred to The Royal Marsden for a minimally invasive procedure called transoral robotic surgery (TORS). The technique removes head and neck cancers by accessing the mouth using a robotic device.
He was under the care of Professor Vinidh Paleri, Consultant Head and Neck Surgeon, who operated using a da Vinci surgical system, which was funded by The Royal Marsden Cancer Charity. With this technology, a surgeon uses a control console to manoeuvre the da Vinci's robotic arms.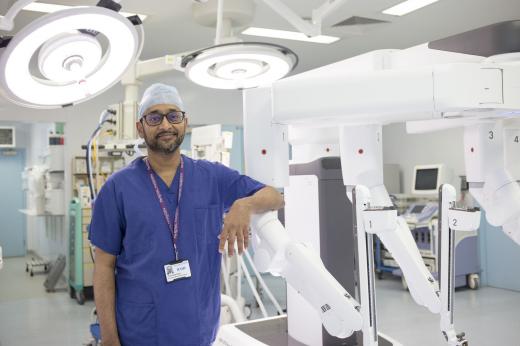 "As there were a large amount of blood vessels in my mouth and throat, I ended up going into surgery twice – which is not really an option with split jaw surgery. I was a complex patient and I was impressed with how the team adapted their plan to ensure the procedure was a success. They were absolutely superb and I can't imagine getting better treatment or attention anywhere else."
Improving outcomes for patients
A study led by Professor Paleri suggests this minimally invasive robotic surgery technique can improve two-year survival rates, reduce recovery time and minimise impact on speech and eating compared to other available treatments for head and neck cancer patients.  
Professor Paleri said: "Recurrent head and neck cancer can be incredibly difficult to manage as patients have already been treated, often with surgery and radiotherapy, which can cause anatomical changes, scarring, and impaired healing. For these patients, the very latest in surgical technology and treatment is vital for successful treatment, so TORS is an extremely welcome innovation."
Robert added: "I was left with a slight speech impediment and had trouble eating certain foods and drinks – for example, anything fizzy was off the menu. However, follow up appointments and scans have shown that there is no evidence of cancer which is reassuring to say the least. It was a very hard thing to go through physically and mentally, but I was soon back up to my old mischief."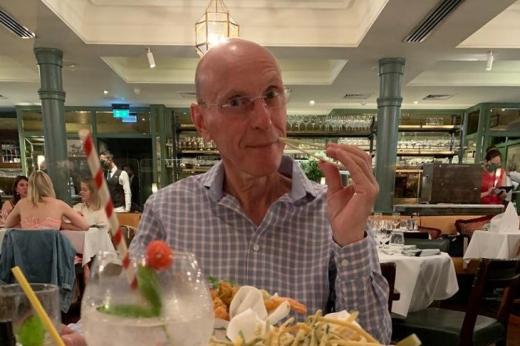 Prioritising mental health
"The experience was very difficult mentally, from finding out about the recurrence to the recovery. I know many blokes in this situation would say they're fine and try to carry on as normal, but mental wellbeing is massively important. I got help through a local support group as my moods were swinging a lot."
"My girlfriend was incredible throughout and she understood better than anyone how I was doing – 'supportive' doesn't even scratch the surface."
Your support helps us fund innovative research 
Thanks to our supporters we can fund pioneering cancer research that will help transform treatment and care for people like Robert, now and long into the future. 
Find out more about ways you can support us.
Discover more inspiring stories on our blog.