Bowel Cancer - Christine's Story
Did you know that bowel cancer is the fourth most common cancer in the UK? Read on to learn about the signs and symptoms, and hear from Christine about her experience.
The bowel is part of the digestive system stretching from the stomach to the anus. It is a hollow tube coiled up in your abdomen, divided into two parts: the small bowel and the large bowel. Bowel cancer (also known as colorectal cancer) is cancer that begins in the large bowel (colon) or back passage (rectum).
Early diagnosis is vital
Unfortunately, we still know very little about the causes of cancer of the large bowel, but we do know that most bowel cancers develop from pre-cancerous growths called polyps. This type of cancer effects similar numbers of men and women, usually over the age of 45. Early diagnosis is vital, as the earlier it is caught, the more likely that treatment will be effective.
Signs and symptoms to talk to your doctor about:
Bleeding – blood in your stools is one of the key signs of bowel cancer, so it is important to see your GP about it
Changes to your toilet habits – tell your GP if you have noticed any changes in your bowel habits that last three weeks or longer
Losing weight – this symptom is less common, but if you have lost weight and don't know why, it is worth mentioning to your GP
Extreme fatigue - Bowel cancer that causes bleeding can cause a lack of iron in the body - anaemia. If you develop anaemia, you're likely to feel tired
Pain or a lump – this can be a sign of bowel cancer.  See your GP if it doesn't go away, or if it affects how you eat or sleep.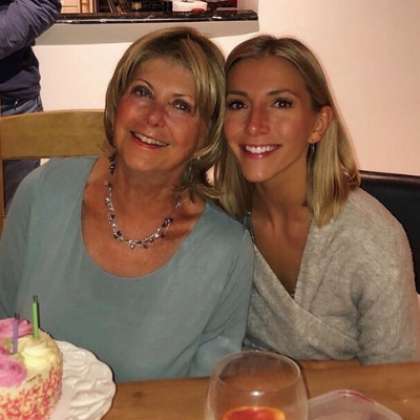 Christine's Story
Christine first started to feel unwell in June 2017. She initially thought this was down to food poisoning, but after feeling ill for a number of weeks and losing lots of weight, she was referred to her local hospital. A series of scans and tests revealed she had stage 4 small bowel cancer, which had also spread to her peritoneum.
"I knew so little about cancer, when the oncologist said it was stage 4, I actually asked her if that was good or bad. I was told the cancer was terminal which was incredibly shocking to hear. It was so hard coming home to tell my family this news."
Then we heard about the trial at The Royal Marsden
The trial, called TSR-042, investigated the benefits of immunotherapy, which works by helping the immune system recognise and attack cancer cells. It can be beneficial for patients with certain secondary cancers and those with a specific genetic mutation called microsatellite instability (MSI).
"The clinical trial gave me hope, I went from having weeks left to live, to being completely well again."
Immunotherapy treatment begins
Christine was admitted as an inpatient in July 2018 and started immunotherapy treatment.  After just two treatments, Christine noticed an immediate improvement and within a few months, her scans were showing no visible signs of cancer.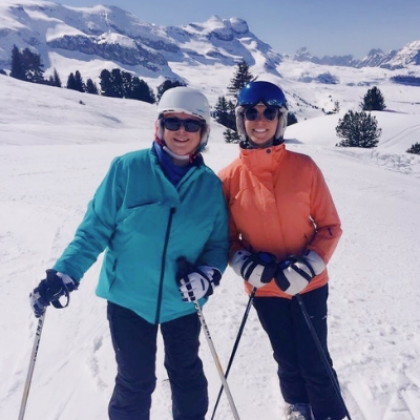 'We're so happy she has her life back.'
Stephanie , Christine's daughter said "Mum still shows no visible signs of cancer and we're so happy she has her life back. My family and I will be forever grateful to The Royal Marsden for what they have done for my mum.2
"I never expected to get better, never mind to have my quality of life back. I had assumed I would never eat again and would be fed intravenously for as long as I lived. When I started being able to eat it was such a huge milestone. When Steph said she was going to run a marathon, none of us thought I'd be here to see it, so it was very emotional. I feel so well now and we enjoyed a skiing holiday. I'm so incredibly thankful to The Royal Marsden, and to The Royal Marsden Cancer Charity for everything they do to make the hospital such a special place." - Christine
Help us continue to fund pioneering treatments
Thanks to the wonderful generosity of our supporters, The Royal Marsden Cancer Charity can help fund pioneering treatment and care for patients like Christine at The Royal Marsden. Please donate today.
Read more stories on our blog