Celia's sponsored step challenge for My Marsden March
My Marsden March is an opportunity to stay active whilst raising funds for The Royal Marsden. Celia tells us about her sponsored step challenge and how she plans to keep on target.
Celia who was treated at The Royal Marsden in January and February this year is going to take on the task of doing 6000 steps a day in June for My Marsden March, which is 180,000 steps in the month!
Celia was diagnosed with cancer of the lining of the womb in 2016 and had a hysterectomy to remove the cancer. Then, several years later she was told that the cancer had come back and was referred by her local hospital to The Royal Marsden for treatment. We found our how she is going to approach the My Marsden March sponsored steps challenge.
What do you remember about being treated at the Royal Marsden?
The Radiotherapy team were absolutely brilliant. Staff always had a smile and a friendly welcome. I was always treated almost as if the only person they would see!  I was nervous for the first few days but after that not at all, as you get to know the routine. I got to recognise the radiographers even though they were not always the same, everyone always introduced themselves and any students.  
 
They took a personal interest in you and what you were going to do the rest of the day.  They managed to be totally professional but at the same time friendly and caring.
Even making sure my appointments later on a Monday and earlier on a Friday so I could travel home easily for the weekend. Little things like this just made me feel like I was really well looked after.
How do you plan to keep your steps up?
I am very lucky that I have a lovely garden to walk around in, and if the weather isn't good I can do a few more steps up and downstairs to make sure I keep my step count up. I did look at my phone yesterday when I had been inside and thought 'Oh I need to get my step count up a bit' and went and walked round the garden a few times even though it was chilly, then once I got a bit warmer I did some pruning and that got the count up!
How are you tracking your steps?
I am using the step counter on my phone, because of the lockdown I actually have my mobile on me more so I don't miss calls and messages from family and friends. So I will use that to make sure I am on target!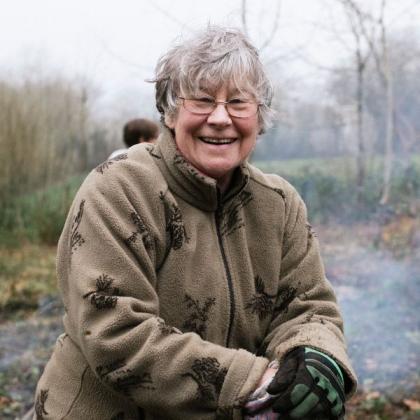 Why the Royal Marsden?
The hospital looked after me so well, and I know this must be a hard time for them given the additional pressure of Coronavirus alongside treating patients who are already going through a stressful time.
This felt like an easy way for me give something back, while also keeping myself fit and active at the moment.
What is going to be hard about the challenge and what are you looking forward to?
It will be harder when weather not so good, as going up and down stairs a bit boring. I will have to listen to the songs I have got to learn for my choir or something while I am doing it!
I always like an excuse to get out in my garden a bit more though, so fingers crossed for some good weather over the next month.
You can make a donation to Celia's fundraising page here. 
Do you fancy setting yourself your own My Marsden March sponsored steps challenge. Get in as many steps as you can, get sponsored to do it and help us make a vital difference to staff and patients at The Royal Marsden. 
Whether it's getting out in the garden, climbing the stairs in your house or keeping active with your favourite online work out, you'll be surprised how quickly you can rack up your step count from home.
Take a look at other stories on our blog