Chief Pharmacist honoured with MBE
Jatinder Harchowal, Chief Pharmacist and Head of Quality Improvement at The Royal Marsden, was awarded an MBE for his work during the COVID-19 pandemic and services to the pharmaceutical profession.
The Queen's Birthday Honours list was due to be published in June but was postponed, enabling nominations of those who went above and beyond in the early months of the response to COVID-19. Jatinder is among a special group of key workers who are being recognised for stepping up amid the crisis.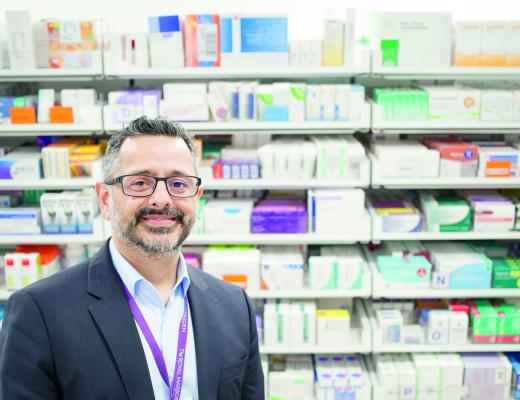 Jatinder (pictured right) has worked in the NHS for 30 years and as a Chief Pharmacist for over 16 years, including six years at The Royal Marsden. He leads a team of 200 staff to support the care of cancer patients. 
In March, Jatinder seconded to help lead the setup of the first NHS Nightingale hospital as Director of Pharmacy, in London's ExCel Centre. That was the first of seven Nightingale field hospitals established by NHS England to provide additional intensive care capacity during the COVID-19 pandemic.
Jatinder spent eight weeks away from home ensuring the Nightingale was set up to safely deliver care to seriously ill COVID patients, working with a multi-disciplinary team in often difficult and stressful situations to provide the best possible care for patients.
On his return to The Royal Marsden, he became lead for the Cancer Hub which was established at the height of the pandemic to provide cancer patients, whose operations weren't possible at their local hospitals, to access the surgery they needed elsewhere. Working with local cancer alliance RM Partners and the independent sector, the Cancer Hub has since provided surgery for almost 3,000 patients from all over the country. 
In his role as Chief Pharmacist at The Royal Marsden, Jatinder has led on a ground-breaking project to increase the adoption of a new generation of biosimilars across England - 'copycat' drugs that could save the NHS hundreds of millions of pounds while providing the same benefits for patients.
In addition to his clinical work, Jatinder is also a passionate believer in developing others into future leaders and coaching those from BAME backgrounds into senior leadership positions and has recently been appointed Chair of a new male BAME forum.
"I am incredibly honoured, humbled, and proud to be receiving this award. I'm proud of what the whole team at the Nightingale achieved together and how all of London came together during the pandemic. I'm hugely grateful for the support The Royal Marsden team gave me during my secondment to the Nightingale and allowing me on my return to play a part in The Royal Marsden Cancer Hub to help as many patients as possible access the cancer surgery they needed."
Jatinder