How to eat well during and after cancer treatment
The Royal Marsden Cancer Cookbook provides over 150 nutritious recipes for people with or recovering from cancer, featuring well-known names like Nigella Lawson and Mary Berry.
The new edition of the book features more inspirational ideas, tips and recipes from top chefs and food writers – from Clodagh Mckenna to Stanley Tucci. All the recipes are easy, family-friendly and promote balanced eating to keep you physically and mentally strong.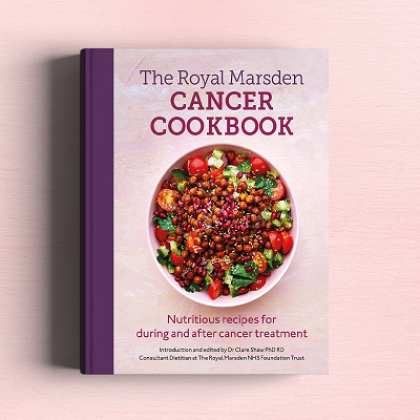 It's helpfully divided into three sections:
An introduction to diet and cancer.
Recipes to cook during treatment that are nutritionally beneficial and easier to eat.
Recipes for after treatment, featuring healthy options that encourage a balanced diet.
The book is now available to buy on our online shop and will raise funds for The Royal Marsden Cancer Charity.
Try a sneak peek recipe below!
Reviewed by a consultant dietitian 
The Royal Marsden Cancer Cookbook is introduced, analysed and edited by Dr Clare Shaw, who worked for many years at The Royal Marsden. As Consultant Dietitian in Oncology, Clare helped to embed evidence-based nutrition and dietetics practice.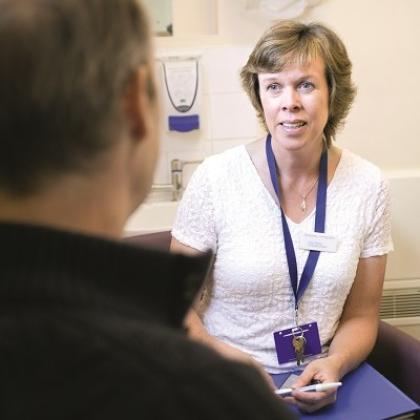 Clare said: "Cancer diagnosis and treatment can bring many challenges, including changes in appetite, the ability to taste and swallow and the way a person's digestive system works. It can be hard to know what to eat and how to continue with a healthy diet."
"The Royal Marsden Cancer Cookbook aims to make cooking easy and enjoyable, providing helpful advice and support for people during and post-cancer treatment. The recipes have been designed for those with cancer as well as their family and friends to enjoy sharing."
"I would like to thank the patients at The Royal Marsden for their excellent ideas over the years, many of which are included in the book, as well as everyone involved with compiling these delicious recipes."
How cancer can affect your eating habits
Being diagnosed with cancer can bring many psychological, emotional and physical challenges, as well as alterations in the way your digestive system works.
Problems with digestion can be a side effect of chemotherapy, radiotherapy or medication you are prescribed for pain. All of these can alter:
how much you can eat
how quickly or slowly food travels through your system
how efficiently nutrients are absorbed from your food
It can be hard to know what to eat or how to continue with a balanced, healthy diet. At the end of treatment, people may have lost or gained weight and need to rethink their eating patterns.
This book's aim is to help people who are experiencing these changes in their digestive system, body weight, appetite and nausea.  
A delicious sneak peek 
Below you can enjoy a pavlova recipe from The Royal Marsden Cancer Cookbook. The recipe is by Lucy Young, who for the last 31 years has worked as assistant to Bake Off legend Mary Berry. Her summer fruits and lemon pavlova is an ideal sweet treat for during cancer treatment.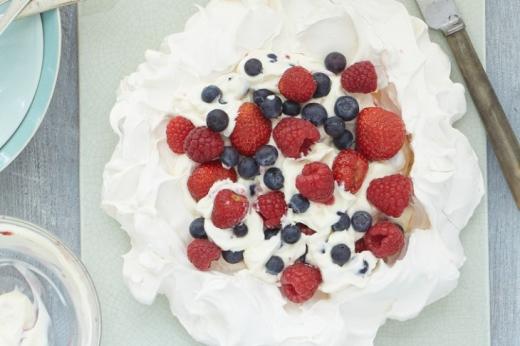 Summer fruits and lemon pavlova recipe
Ingredients
This recipe serves eight people.
For the pavlova:
120g (41/2oz) pasteurised egg whites
175g (6oz) caster sugar
1 teaspoon cornflour
1 teaspoon white wine vinegar
For the filling:
150ml (5fl oz) double cream, whipped
200ml (7fl oz) half-fat crème fraîche
3 good tablespoons luxury lemon curd
100g (31/2oz) fresh raspberries
100g (31/2oz) fresh blueberries
100g (31/2oz) fresh strawberries, quartered
Mint leaves, to decorate
Method
Preheat the oven to 120°C/gas mark 1/2/250°F. Line a large baking sheet with greaseproof paper.
To make the pavlova, whisk the egg whites until very stiff. Gradually add the sugar, a teaspoon at a time, whisking the whole time, until stiff and glossy. It is easiest to do this with a stand mixer or electric whisk. Mix the cornflour and vinegar together and stir into the meringue mixture. Spoon the meringue onto a baking sheet in a circle around 23cm (9in) in diameter. Using a spoon, push up the side so there is a dip in the middle (like a nest), ready for the filling. Bake in the oven for about 1 hour. Turn the oven off and leave the pavlova inside until it is stone cold.
Mix the whipped cream and crème fraîche together, and stir in the lemon curd and half the fresh fruits. Spoon into the centre of the pavlova nest. Decorate with the remaining fruits and mint leaves.
Tips
The key to a perfect pavlova or meringue is to whisk the egg whites and add the sugar slowly, otherwise the sugar will sink to the bottom and the pavlova will collapse. Be patient and do not add the sugar too soon! The cornflour and vinegar give the gooey middle.
Any leftover meringue can be stored in an airtight container or frozen – it is then good crumbled up over yogurt, cream, ice cream or compôte, or a combination of all of the above.
If you don't want to make a pavlova but have meringue on hand, you can break it up and use it to make lots of individual Eton messes as well, using the same ingredients or anything else you have to hand.
Organise your own coffee morning
You could get involved and make a perfect pavlova or another one of the tasty recipes from the Royal Marsden Cancer Cookbook. Find out more about creating your own fundraising event.
The Royal Marsden Cancer Cookbook is available on our online shop.