Inspiring cyclists complete 400km London to Paris fundraising ride
A team of 50 cyclists from property firm Related Argent have raised over £400,000, supporting research into early cancer diagnosis at The Royal Marsden.
The group, made up of amateur and seasoned cyclists alike, took on the gruelling challenge over three days. They travelled 407km from the Related Argent offices at 4 Stable Street, Kings Cross, across rolling Surrey Hills and swathes of Northern France, all the way to the Trocadéro Square, overlooking the Eiffel Tower in Paris.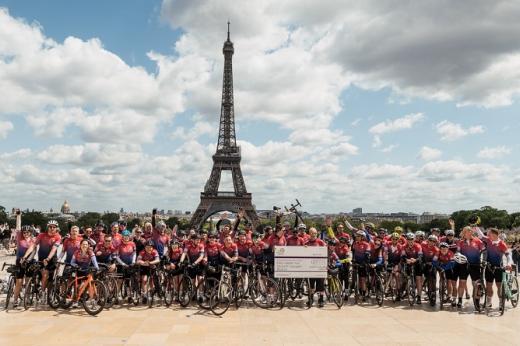 A second group of fundraisers from Related Argent will also be walking 21 miles from Lewes to Eastbourne on June 21 2023 to support The Royal Marsden Cancer Charity.
Early cancer diagnosis at the Oak Cancer Centre
Having already smashed their original target of £250,000, Related Argent has now also exceeded their incredible new target of £400,000 – and they haven't stopped yet!
This has helped to support a suite of state-of-the-art equipment in the Charles Wolfson Rapid Diagnostic Centre in the recently opened Oak Cancer Centre.
The centre will help more people receive an early diagnosis, and support researchers in finding new and faster ways to identify cancer – improving outcomes for patients and ultimately saving more lives.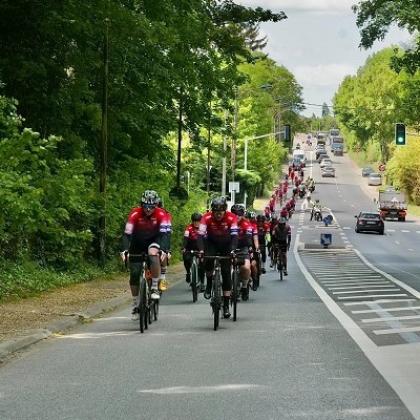 Neal Donnelly, Associate Director of Philanthropy and Partnerships at The Royal Marsden Cancer Charity, said: "We are so grateful to Argent and Related Argent for supporting The Royal Marsden Cancer Charity by taking on these two incredible challenges. The money raised will make such a difference to patients at The Royal Marsden, funding state-of-the-art equipment that will enable earlier and faster cancer diagnoses. We wish the team the very best of luck for the upcoming walk – we will be cheering them on every step of the way.
Nick Searl, Managing Partner at Argent and partner at Related Argent, added: "This is a cause very close to our hearts. We are so grateful to everyone who has already donated and would be really delighted if others could dig deep to help us meet our target. Every penny will go to this brilliant charity, helping patients and their families to get the diagnoses and treatment they so vitally need."
You can find out more and donate on Related Argent's fundraising page.
Discover more inspiring fundraiser stories on our blog.