International Women's Day: Dr Samra Turajlic
This International Women's Day, we are highlighting the important work of one of our leading consultants, Dr Samra Turajlic.
Dr Samra Turajlic has been at The Royal Marsden since 2015 and is a Consultant Medical Oncologist in The Royal Marsden's Skin and Urology units treating patients with melanoma and kidney cancer. As a clinician scientist her other role is as a Research Group Leader at the Francis Crick Institute.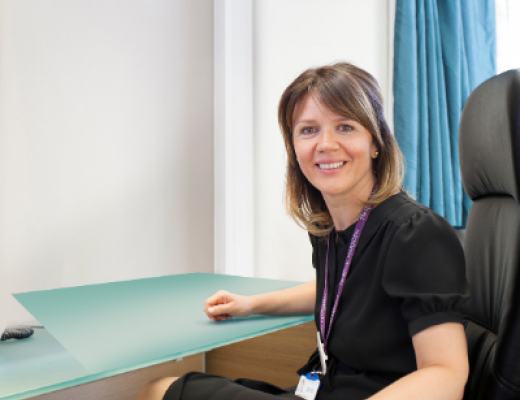 Leading on clinical studies
Her main research goal is to improve understanding of the biology of kidney cancer and melanoma and the reasons for the success or failure of different treatments. The combined clinical and research team use large scale translational studies to unpick how cancers evolve over time and in space to escape treatment and become lethal. Her clinical research interests are emerging therapies that harness the immune system and she is the chief investigator of a novel cell therapy product for melanoma patients.
Understanding COVID-19 in cancer patients
The COVID-19 pandemic, and its effect on cancer patients has presented an urgent new challenge. Dr Samra Turajlic and the team on Renal and Skin units rapidly launched a large-scale study to understand how cancer patients' immune system reacts to COVID-19 infection and vaccine and whether this is impacted by the type of cancer or the type of treatment that the patient receive. She is leading on The CAPTURE study, partially funded by The Royal Marsden Cancer Charity, which involves analysing data from ultimately more than 1,200 patients and 200 hospital staff to understand interactions between COVID-19, immunity, cancer and cancer treatment.
This understanding helps us to calibrate our measures to achieve the best possible cancer outcomes and reduce the risk of COVID-19, in some cases, allow clinicians to confidently resume treatment, whilst also offering important insights into the COVID vaccine response in cancer populations. The knowledge has broader implications for understanding COVID-19 and also the risk of other infections in patients with cancer- something that is poorly understood at present.
This year has been incredibly challenging on many fronts and I am incredibly proud of the effort of our teams- both clinical and lab, and especially the many women across amongst them who have been a shining example of courage and inspiration.
-Dr Samra Turajlic
Your donations help to fund life saving research to bring about breakthroughs in cancer treatment.
Read more stories on our blog