Study highlights benefit to cancer patients from a third dose of COVID-19 vaccine
A third dose of the COVID-19 vaccine could increase protection from COVID-19 for people with cancer, and especially blood cancer, according to a new study from the Francis Crick Institute and The Royal Marsden NHS Foundation Trust.
The CAPTURE study, funded by The Royal Marsden Cancer Charity, monitored the immune response of 585 patients with different types of cancer after receiving a first and second dose of the COVID-19 vaccine.
This is the largest study to comprehensively evaluate the response of patients with cancer to COVID-19 vaccines.
Using a viral neutralisation assay test, researchers measured levels of antibodies blocking different strains of the virus - including the Delta variant - into cells. These, so-called 'neutralising antibodies' are different to antibodies that are measured routinely. Researchers used this more informative test to see if patients had levels of neutralising antibodies sufficient to block at least 50% of virus infections.
After two doses of the vaccine, 83% of patients previously not infected with the virus developed neutralising antibodies against the original strain, which is no longer in circulation but is the strain current vaccines were designed to target.
However, when researchers looked specifically at antibodies able to neutralise the Delta variant, they found that only 54% of patients developed these after both vaccine doses (31% of patients with blood cancer and 62% of patients with solid cancers; 68% of patients vaccinated with the Pfizer-BioNTech and 50% of patients vaccinated with the Oxford-AstraZeneca vaccine).
The study found that patients with blood cancer were less likely to have antibodies than individuals of a similar age without cancer, and when they did have antibodies, the levels were lower against all variants. Patients with solid cancer had an antibody response that was more comparable to individuals without cancer.
Previous research from other groups suggested that if a patient has higher levels of neutralising antibodies, they have a lower risk of breakthrough infection. However, the exact immune response for individuals varies and for some patients, lower levels of neutralising antibodies may still be associated with some protection against COVID-19 infection and protection from severe disease.
Researchers also saw that commonly used antibody tests for COVID-19 can overestimate the level of neutralising antibody protection in an individual, especially in relation to the Beta and Delta variants.
To further understand other ways in which vaccinations can protect patients with cancer against COVID-19, the researchers assessed T cell responses to vaccines. They found that 79% of vaccinated cancer patients developed a T cell response and, encouragingly, the T cell response was the same in patients with solid and blood cancers. Importantly, the vaccines induced T cells in patients who did not have a neutralising antibody response.  This was in keeping with data showing that some patients with blood cancer who recovered from COVID-19 did not have neutralising antibodies but did have a strong T cell response. Further work will be needed to fully understand how T cells contribute to protection.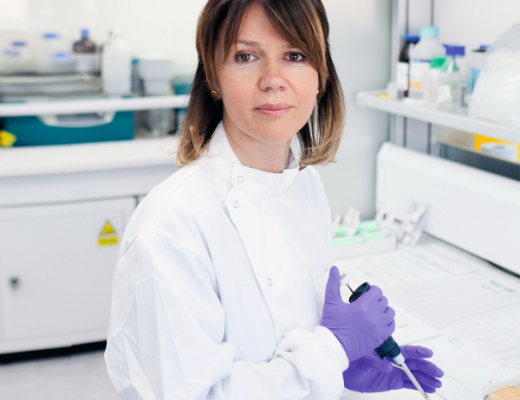 Dr Samra Turajlic, lead author and group leader at the Crick and Consultant Medical Oncologist at The Royal Marsden NHS Foundation Trust, said: "While patients with blood cancer are more vulnerable to severe symptoms of COVID-19, there is a limited understanding of how these patients respond to vaccines, especially in the context of the circulating Delta variant. This makes it harder for patients to make informed decisions about their level of risk, especially as social contact restrictions have been lifted, and for their doctors to decide on the right risk reduction strategy.
"This study provides evidence that variants of concern pose a greater threat to some patients with cancer, specifically those with blood cancer. Our findings support the argument that these people should be prioritised to receive a third vaccine dose. For patients with solid cancer, the appropriateness of a third dose may depend on their age, vaccine type, and previous infection. Prioritisation of a third dose should also take into account how the COVID-19 infection may disrupt an individual's anti-cancer treatment.
"We urge that patients with cancer, but especially those with blood cancer and on certain cancer therapies, continue to take precautions to protect themselves, especially in situations where there is a higher risk of transmission such as in crowded spaces and indoors."
In September, the Joint Committee on Vaccination and Immunisation (JCVI) issued advice recommending that immunosuppressed adults should receive a third primary dose this autumn. This includes patients with blood cancer and patients with solid cancer receiving immunosuppressive chemo- or radiotherapy. Researchers from the CAPTURE study have submitted their findings to the JCVI, as evidence of the level of protection cancer patients have against the variants of concern.
This study is led by the Royal Marsden NHS Foundation Trust, funded by The Royal Marsden Cancer Charity, and received support from the NIHR Biomedical Research Centre at The Royal Marsden NHS Foundation Trust and The Institute of Cancer Research, London.
Find out more
Find out more about how you can support the life-saving research and care for cancer patients