Exclusive [email protected] dinner for The Royal Marsden's Oak Cancer Centre raises over £775,000
The night saw a host of high society and famous faces celebrate The Royal Marsden Cancer Charity's appeal for a new cancer treatment and research facility.
The event was held at London's fashionable 180 The Strand, newest home of Soho House Group, and was hosted by Stephen Fry, who has worked tirelessly to raise awareness of prostate cancer.
John Illsley of Dire Straits performed, with guests including Sir Tim Rice, Cath Kidston, Sol Campbell, Anya Hindmarch, Alexander Spencer Churchill and Azzi Agnelli.
The event was made possible by former Chairman of Sotheby's, Henry Wyndham, and Trustee of The Royal Marsden Cancer Charity, Lady Helen Taylor, who worked with the Marsden @ 180 committee to bring together 300 guests in support of The Royal Marsden's new Oak Cancer Centre. The Centre will bring together over 400 researchers working across all cancer types, and is designed to enable collaboration and speed up the development of new treatments.
Some of the fantastic auction prizes for a silent auction and a live auction, hosted by Henry Wyndham, included a five-night stay at Gladstones, Zuka Private Game Reserve as well as a stay in British fashion designer Serena Bute's iconic Ibiza villa, and a private dinner at Syon House cooked by Giorgio Locatelli.
Ralph Lauren, a long-standing corporate partner of The Royal Marsden Cancer Charity, generously contributed to the event as Associate Sponsor. British, eco-smart technology company myenergi supported the event as Champagne and Wine Sponsor.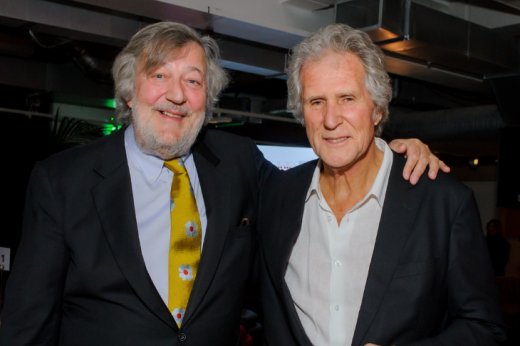 Stephen Fry said: "I am thrilled to be a part of this extraordinary event [email protected] Cancer affects so many people and I have first-hand experience. Yet it is the dedication of researchers at The Royal Marsden that offers patients more hope by pioneering new treatment options. I am extremely proud this event has been able to help The Royal Marsden Cancer Charity move closer to reach its Oak Cancer Centre Appeal target."
Antonia Dalmahoy, Managing Director of The Royal Marsden Cancer Charity, said: "This has been an exceptional fundraising evening that has raised over £775,000. We are so grateful to the organisers including Henry and Lady Helen, all the Marsden @ 180 committee members and sponsors, Ralph Lauren and myenergi. Thanks to this incredible support, we are even closer to seeing the Oak Cancer Centre welcome its first patients and help transform the lives of people with cancer."
The Oak Cancer Centre
The Oak Cancer Centre is a brand new treatment and research facility currently in construction at The Royal Marsden, Sutton. 
Find out more about the Oak Cancer Centre and donate to our appeal here. 
Donate
Help us build hope, brick by brick by supporting the Oak Cancer Centre Appeal