A message to our patients during COVID-19
The Royal Marsden is still providing treatment to those who need is during the pandemic. A selection of staff from across the hospital have shared messages for patients in this video.
Medical Director Dr Nick van As says:
"We want to reassure our patients, their families and anyone worried about cancer during this difficult time that we are still delivering cancer treatment- the hospitals are open. We are keeping footfall as low as possible to help keep patients and staff safe. Some patients are being advised on how to administer treatment at home to avoid them travelling in. Consultants are holding remote consultations to keep patients safely at home and we have restricted visitors to end of life care and paediatric patients only.
For those who do need to come into the hospital, we understand this can cause anxiety. We'd like to reassure patients that the hospital is very quiet and we're following social distancing guidelines. All staff are well briefed on infection prevention and control and any patients with suspected or confirmed COVID-19 are being cared for in single rooms away from other areas.
Some patients will find their treatment is on hold- please trust us that we have your best interests at the heart of everything we do and we are assessing each patient's risks and benefits of continuing treatment now versus waiting for the threat to pass. We are now planning how to phase in the recovery of business as usual as soon as it is safe to do so.
Anyone who is not currently a patient who thinks they have symptoms that could be cancer, please see your GP as it's important cancer is diagnosed as early as possible, when it is easier to treat."
Cancer treatment during COVID-19
Cancer treatment is available during the pandemic. This is partly thanks to the development of cancer hubs. The Royal Marsden is working with local hospital partners and the private sector to make surgery available.
On one day we could have up to six theatres in use with teams from up to 10 hospitals operating at The Royal Marsden on patients from all over London, and some Royal Marsden surgeons operating at the Bupa Cromwell hospital.
While we do have a small number of COVID patients at The Royal Marsden, as we're a specialist cancer hospital we don't have the same volume that general hospitals have. Other regions are setting up similar hubs to ensure more patients can access treatment around the country.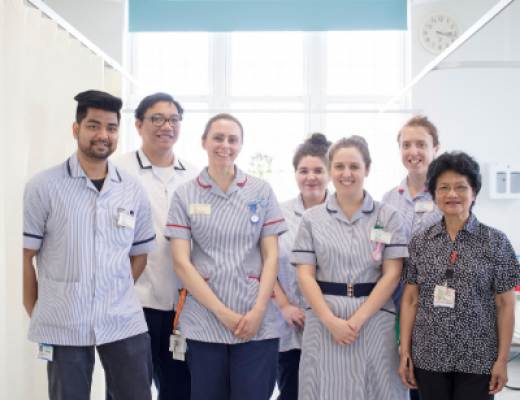 How The Royal Marsden Cancer Charity is helping
The Royal Marsden Cancer Charity has provided WiFi upgrades and iPads so that patients can more easily keep in touch with friends and family during this time, as well as additional wellbeing and psychological support for staff and patients.
The charity is supporting urgent research projects that will help develop knowledge and understanding on how best to protect high risk cancer patients at this time.
If you would like to support The Royal Marsden Cancer Charity consider donating to our emergency appeal.