Natalie's story - breast cancer awareness
Dance teacher Natalie Hall was diagnosed with breast cancer when she was just 43. Following recovery from her treatment at The Royal Marsden, she recently ran the London Marathon, raising over £4,000 for The Royal Marsden Cancer Charity.
Natalie Hall was just 43 when she was diagnosed with breast cancer in February 2019. The dance teacher and mother of two received various treatments at The Royal Marsden including a lumpectomy, chemotherapy and a double mastectomy, as well as follow-up psychological support.
She has since trained as a Cancer Exercise Specialist to help others going through similar experiences, and took part in the London Marathon to raise money for The Royal Marsden Cancer Charity, as her way of saying thank you for the support she received.
She shares her inspiring story.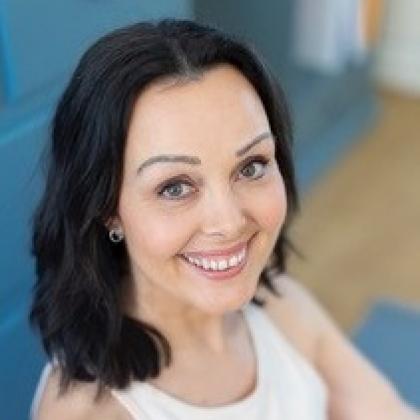 My diagnosis and coming to The Royal Marsden
"I was diagnosed in February 2019. I found a lump in my breast which I presumed was hormonal. I booked to see the GP who sent me to the Breast Unit in a different hospital. They told me on the same day that they were 99% sure that it was breast cancer. A week later they confirmed it was."
"I was super healthy and fit and only 43. I'm a dance teacher and was running marathons and really looking after myself, so my diagnosis came as a huge shock."
"I went to The Royal Marsden and we decided on a lumpectomy. The tumour was just under 2cm and they removed it all but after my surgery, the results showed that the cancer had also spread to my lymph nodes. I had something called LVI (lymphovascular invasion) – which means the cancer had potentially gone into the blood vessels. They decided the next step was to go onto chemotherapy which I was happy to do – I just wanted them to get rid of it all!"
Genetic testing and the BRCA2 mutation
"I found out I had the BRCA2 genetic mutation. They adapted my chemo as a result of this and we started with preventative procedures to stop the cancer coming back. Having the BRCA2 mutation means I'm high risk. The next step was to remove the lymph nodes and have a double mastectomy which I had about 6 weeks after finishing chemo."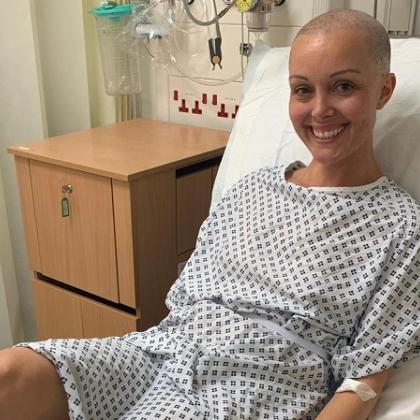 "I felt quite uncomfortable after the surgery. Now I realise why they suggest the lumpectomy as I found this a lot easier to recover from. You can't do anything for yourself for a while after having a mastectomy.
Finding out that I had the BRCA2 gene was obviously hard to process, but it is so much better to have this knowledge. It has potentially given me my life, and more options for my children too. I would like to thank the scientists for their work, and to highlight all the research that has happened as a result of that discovery to improve treatments."
Psychological support and family therapy
"I've had two lots of therapy at The Royal Marsden, the first time was over the phone because of COVID. I also had family therapy with a therapist called Danielle who did sessions with me and my two daughters. Danielle would help me understand what my children were going through. Even though I was very mindful of it, it was still really helpful to talk it all through with someone else.
She made us feel important and gave us such personalised sessions. We spoke about how I could help my daughters further and support them myself. We then had other sessions where my daughters would also join in. I'm so glad I did the sessions; they were so helpful."
Help with 'chemo brain' with the Emerging from the Haze project
"My short-term memory felt severely affected after treatment. My brain felt so muddled and I found it difficult to concentrate. I would regularly find myself in rooms not knowing why I was there. Once, I went to pick my daughters up from school and left the bath running at home, flooding my entire living room.
I was put onto the Emerging from the Haze project which aims to help with cancer related cognitive impairment. It has been amazing. The tools and techniques I've learned are brilliant – they'll stay with me forever. The course covered exercise, nutrition, meditation and learning other techniques to help manage cancer related cognitive impairment. It's really helped with being able to use my brain more efficiently."
Training to be a Cancer Exercise Specialist and running the London Marathon
"While I was in lockdown, I trained to be a Cancer Exercise Specialist. I set up Fireflies Fitness as part of this. The fireflies are representative of us patients going from the darkness into light and continuing to shine.
I'm so passionate about fitness and I ran all the way through my treatment. Keeping active helped me so much, I wanted to use my own experiences to help others going through the same thing. Getting people up and motivated really helps so much."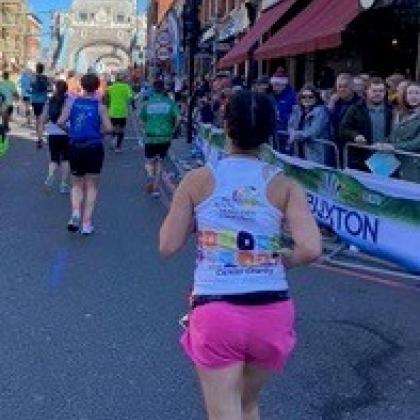 "When I came to The Royal Marsden I said to my surgeon that I wanted to run the London Marathon for The Royal Marsden Cancer Charity once they'd made me better. It was the least I could do after what the hospital did for me. I felt very proud when I got to the finish line. I raised over £4,000."
"I absolutely love everyone at The Royal Marsden. They make you feel so well looked after. I owe them my life."
The 'Emerging from the Haze' Project
During and following cancer, people can experience changes in cognitive function known as cancer related cognitive impairment (CRCI). Despite sometimes being referred to as 'chemo brain', it can be caused by both the cancer itself, as well as other cancer treatments and related factors.
Patients with CRCI report symptoms including decline in memory, attention problems, slowing of information processing and difficulty with finding the right words. This can have a real impact on an individual's quality of life.
The 'Emerging from the Haze' project provides support for patients at The Royal Marsden who are experiencing cognitive impairment. This project is supported by funding from The Royal Marsden Cancer Charity.
Feeling Inspired?
Explore our upcoming fundraising events and challenges