'Radical' changes to cancer treatment during pandemic to be researched
In response to the COVID-19 pandemic, radical changes have been made to radiotherapy treatments for cancer patients. Now researchers at The Royal Marsden, funded by The Royal Marsden Cancer Charity will be recording and analysing the impact of the different treatment approaches on cancer outcomes.
The Royal Marsden and the Institute of Cancer Research, London, have launched several critical research studies such as this at unprecedented speed, with The Royal Marsden Cancer Charity now needing to raise over £500,000 over the coming weeks to ensure support for the research studies can continue.
New approaches to treatment
Radiotherapy cures approximately 40 per cent of cancers, and around half of all cancer patients will receive radiotherapy at some point during their treatment. The Royal Marsden has one of the UK's largest radiotherapy departments, treating up to 5,000 patients a year.
During the COVID-19 pandemic, clinicians have had to explore new approaches to treatment, balancing the need for life-saving care with the risk COVID-19 presents to cancer patients, a particularly vulnerable group.
Changes have included shorter, more intense treatment, delaying, or even omitting radiotherapy from treatment plans. For some cancer types such as prostate, clinicians have extended patients hormonal therapy and delayed radiotherapy, if safe to do so. For others, such as breast cancer, treatment is being given in higher doses on fewer occasions.
In a service evaluation, investigators will study the long-term impact of these significant changes to radiotherapy treatments.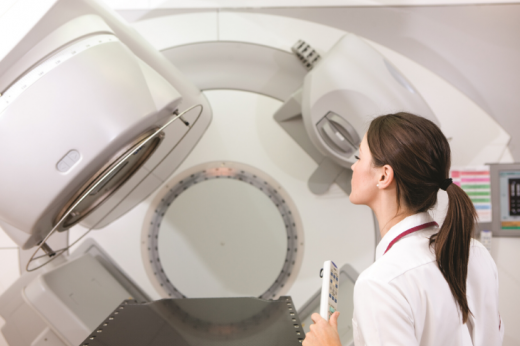 Providing a solid evidence base
The team, led by Dr Henry Mandeville, Consultant Clinical Oncologist at The Royal Marsden, and Professor Emma Hall, Deputy Director of the ICR's Clinical Trials and Statistics Unit, will collect data about patients from March to December 2020, specifically information on treatment changes, side effects, and survival. This will be compared with data from patients who underwent treatment pre-COVID 19.
Researchers hope the dataset will provide a solid evidence base, which will help to inform future clinical decision making, particularly in the event of future crises.
Rapid and large-scale changes
Chief Investigator Dr Henry Mandeville, Consultant Clinical Oncologist at The Royal Marsden and Team Leader at the Institute of Cancer Research, London, said: "In the space of only a few months the COVID-19 pandemic has required rapid and large-scale changes across the NHS. For our cancer patients we still need to provide life-saving care, but equally are cogniscent of the increased risk they face as a vulnerable group and how we should be minimising their attendance at hospital where possible."
"As clinicians we are making daily decisions that may impact the success of treatment. Whilst this is based on the available evidence and expert decision making, it is important that we capture and analyse the impact that such radical changes may have in the long term. 
"We hope our initiative will feed into wider national efforts investigating the impact of COVID-19 on radiotherapy and will provide clinicians with a better understanding about the effects resulting from changes we are making. Critically it helps prepare us for future problems and enables us to continue to provide world-leading care to patients, based on rigorous and sound evidence."
The study will also be supported by the NIHR Biomedical Research Centre at The Royal Marsden and the ICR.
National and international impact
Professor David Cunningham, Consultant Medical Oncologist at The Royal Marsden and Director of the NIHR Biomedical Research Centre at The Royal Marsden and the Institute of Cancer Research, London, said: "We are uniquely placed to look at COVID-19 in a cancer setting, investigating the pandemic's impact across a wide range of patients. These trials call upon our multidisciplinary expertise in areas such as systemic therapies, radiotherapy, circulating tumour DNA which is detectable in blood tests, surgery and holistic care."
"Teams have been working at pace to establish studies that adhere to our usual rigorous protocol; each will have varying durations, with a focus on immediate impact through to longer term understanding of this novel virus. Importantly, with commercial, NHS and academic partners across the country, and thanks to fundraising from The Royal Marsden Cancer Charity and support from The NIHR Biomedical Research Centre we hope this research will have a national and international impact."