Rebecca and Dexter's star for Simon
"We decided to dedicate a star to Simon, from me, and one 'to Daddy' from Dexter. It's lovely to have something at Christmas time for Dexter to focus on his dad."
Rebecca and her son Dexter have taken part in Celebrate a Life for the last 3 years. Each year they dedicate a star in memory of Simon, a loved partner and proud daddy who passed away in 2019 after being diagnosed with Sarcoma in 2018. Here Rebecca shares why Celebrate a Life is an important part of remembering Simon at Christmas time. 
Simon's diagnosis
"Simon was really fit and healthy and loved the gym…unlike me! At the beginning of 2018 he started complaining that he had backache – which he thought was just because he was overdoing it at the gym."
"The pain got worse over a couple of months, and he started being sick and having other symptoms. He ended up going to A&E and a CT scan showed a large mass in his abdomen. These results came through at the same time as us finding out I was pregnant, our first baby together."
Coming to The Royal Marsden
"We were referred to The Royal Marsden and Simon was diagnosed with Sarcoma. By this time, unfortunately his tumour was inoperable, and he became extremely unwell."
"In May, a couple of weeks after being at The Royal Marsden, Simon was so unwell that we didn't think he'd survive the next 24 hours. The teams at the hospital then did something amazing. The radiography team bought down an ultrasound machine to Simon's room so we could have a scan and he could see our baby before Simon passed away."
"Miraculously after this, Simon fought through and turned a corner. Led by Professor Robin Jones, Simon's medical team did all they could to extend his life, so that he could meet our son Dexter. With the help of The Royal Marsden, he did, and we spent three precious months together before he passed away in April 2019. On paper, he should never had made it past his first admission to The Royal Marsden as he'd been so poorly."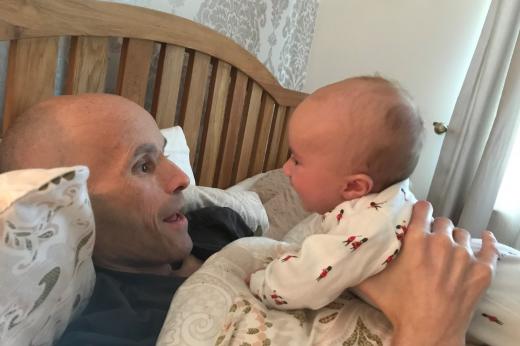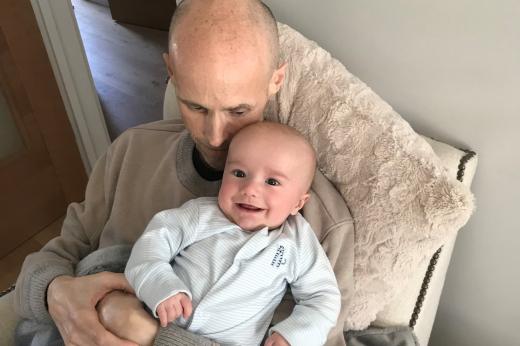 "It's amazing to have those memories and have photos of them both together. It wasn't just that he was alive to meet Dexter, The Royal Marsden also helped us in getting Simon home so we could be a normal family together for a short while."
"I feel so indebted and grateful to The Royal Marsden for everything they did, for allowing Simon to meet Dexter. We were able to have those few months together as a family. I knew after Simon passed away that I still always wanted to be involved with the hospital in some way."
Taking part in Celebrate a Life
"I saw that the Celebrate a Life event took place every Christmas and we decided to dedicate a star to Simon, from me, and one 'to Daddy' from Dexter. It's lovely to have something at Christmas time for Dexter to focus on his dad and to know we are supporting The Royal Marsden Cancer Charity."
"He really likes being able to still talk about his Daddy – even though it's in a different way to how his friends can talk about theirs. I try and make things like Christmas really special for Dexter and Celebrate a Life definitely supports me in doing this."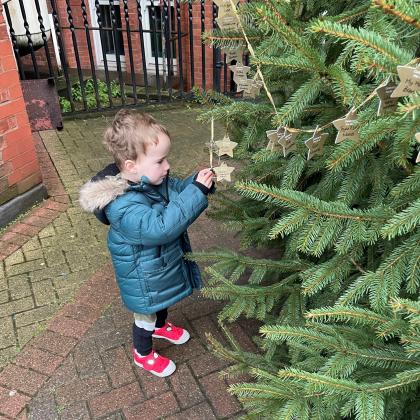 "Dexter is now 3 and a half years old. I'm very open with him that Daddy is in heaven and he likes to try and find Daddy's star on the tree at the service."
"The Celebrate a Life service is so special. Being able to take part last year in person was so lovely and for Dexter to have this event to focus on his dad. It's sad to see other people who are affected by cancer in a similar way to us, but the event makes you feel like you're not alone. It makes you realise other people have shared the same sort of experiences. It brings people together and it's a celebration of life."
"Simon was so worried about not being a part of Dexter's life, but Celebrate a Life allows us to have a special moment all together every year. It's so important in celebrating his legacy and the event means so much to me."
Working at The Royal Marsden
"I came to The Royal Marsden to work for six months in January 2020, in a healthcare assistant role, as I wanted to be able to help and give something back. I worked in the Outpatients department, during the pandemic, to help support the hospital. I learnt so much there, and it was so nice to give back to patients and families who had gone through a similar experience to me."
"I want to progress in my hospital career and my dream is to become a clinical nurse specialist on so I can support other people in the situation I was in with Simon. One day, when Dexter is older, I'd love to get back into this and come back to The Royal Marsden to give more back. This is my ultimate goal."
This Christmas, we invite you to dedicate a star to someone special.
By naming a star for someone special and making a donation, you are making a vital difference to the lives of cancer patients and their families.
Find out more about Celebrate a Life.