Research breakthroughs
Experts from The Royal Marsden presented the results of their pioneering research to a global audience during the virtual European Society for Medical Oncology (ESMO) Congress in September.
Consultants presented groundbreaking research across a number of developments in ovarian, breast and prostate cancer.
One of the highlights included data presented on the SOLO-1 trial for ovarian cancer patients which showed almost half of patients who received the targeted drug olaparib during treatment for newly diagnosed BRCA-mutated advanced ovarian cancer remained disease-free after five years.
Olaparib, a PARP inhibitor that targets inherited genetic faults in tumours and is also used to treat breast cancer, continued to benefit patients substantially beyond the end of treatment.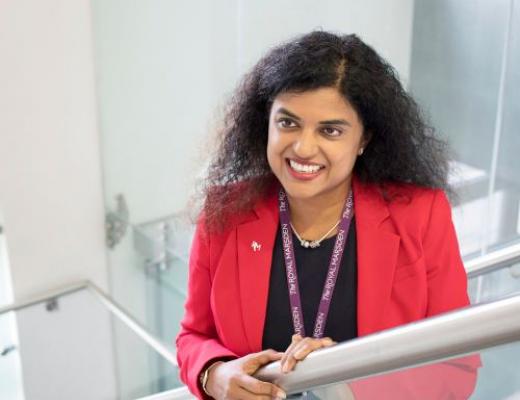 Dr Susana Banerjee (pictured left) Consultant Medical Oncologist, said:
"These results represent a significant step forward in the treatment of newly diagnosed advanced ovarian cancer and give us real hope for more long-term survivors. Previous research in PARP inhibitors in ovarian cancer has only been in patients with relapsed disease, so SOLO-1 has given us the evidence to show that, as a first-line therapy, they can have substantial benefit for patients earlier in the cancer pathway."
Research into ovarian cancer is supported by The Royal Marsden Cancer Charity and the Lady Garden Foundation.
Olaparib also has benefits for prostate cancer patients. The final results from the PROfound trial, co-led by Consultant Medical Oncologist Professor Johann De Bono, at the ESMO congress, demonstrated that olaparib can extend the lives of some men with prostate cancer and should become a new standard treatment for the disease.
The trial showed that the drug was more effective than the hormone treatments, abiraterone and enzalutamide, at slowing down the growth and spread of prostate cancer in patients with advanced disease.
One of the other highlights of the conference was the two-year results of a major trial into hormone-receptor-positive breast cancer, which was described as one of the most promising breakthroughs for patients with this type of disease in the past 20 years. The global monarchE study found that the drug abemaciclib – one of a new generation of treatments – reduced the risk of cancer recurrence in patients with early-stage, hormone receptor positive breast cancer.
Professor Stephen Johnston, who led the study at The Royal Marsden, explained roughly 70 per cent of breast cancer patients have hormone receptor positive tumours, and of those, around 30 per cent will have a higher risk of relapsing in the first two years.
He said: "The study found that when abemaciclib was added to standard hormone therapy, there was a 25 per cent reduction in recurrence, compared with patients who were treated with hormone therapy alone for two years.
"The research has given us confidence that we'll soon be able to offer these patients who are at a high risk of recurrence a greater chance of remaining cancer free. It could potentially save many lives in the future."