Road to recovery - One mum's breast cancer story.
Tara, fitness instructor and mother of two shares her story, from diagnosis and surgery, to Jogging 40 Miles in January for The Royal Marsden Cancer Charity.
In February 2021, mother of two Tara, was diagnosed with stage 2 invasive ductal breast cancer and had been referred to The Royal Marsden. Thanks to an early diagnosis and treatment at The Royal Marsden, she's now cancer free.
Tara, 46, fitness instructor from Surrey was diagnosed with breast cancer in February 2021, on World Cancer Day, after finding a lump in her breast.  
"I found a small lump in my breast back in January last year. Just a very small, pea sized lump. I knew it didn't feel right and I needed to get it checked out.  I went to the doctors immediately and I'm so glad I did this straight away. He very quickly referred me to my local hospital for more tests.  
"The mammogram didn't find anything suspicious; it was the ultrasound that picked it up. Once these results came back, I was diagnosed with cancer and told it was stage 2 ductal breast cancer.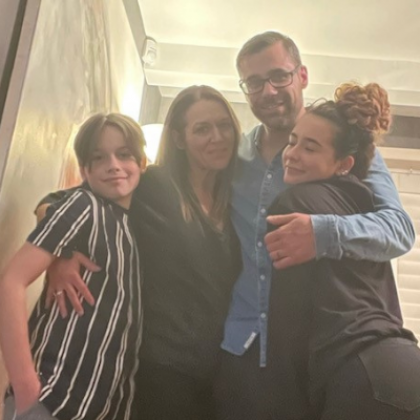 "I got my diagnosis on the 4th February which is World Cancer Day. It was really strange as I'd built myself up to get this news, so I wasn't scared, I was almost expecting it. But still, it didn't really sink in and I found it quite hard to accept. 
"I wasn't going to let this cancer diagnosis defeat me and knew I needed to be strong for my kids and my new partner. My kids, Ami and Saul, were very brave during my cancer diagnosis and treatment. It was a year after that they were happy to talk about it as it was so scary for them. 
Tara was referred to The Royal Marsden under the care of Mr Peter Barry and went on to have lumpectomy surgery in March. 
"I asked to be referred to The Royal Marsden as I have friends that work at the hospital and people had always said how amazing it was. I wanted the best care and best treatment, so I knew this was the place to go."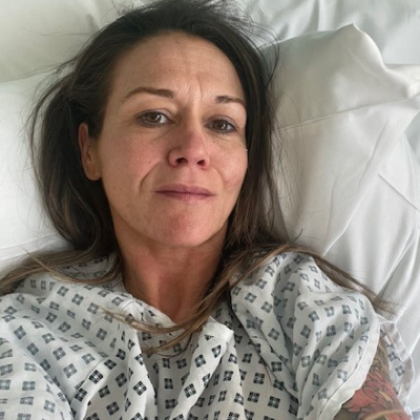 "By 1st March, I'd already had my lumpectomy surgery to remove the cancer and was back home with my family very quickly. It all happened in such a short space of time after my diagnosis, a matter of weeks, which was amazing.    
"I was offered radiotherapy after my procedure which I went on to have in May. After my radiotherapy - I thought I had another lump. I went back into hospital for an ultrasound and they told me it was scar tissue and fluid in my breast which wasn't worth taking out so thankfully everything was fine.  
"Going through this experience through COVID times was really tough as I couldn't do much work and had to move my fitness classes and business online. I was also going through a divorce at the time and selling my house, so it really was a challenging period for me with a lot going on.  
"After my radiotherapy in May, I moved house and had to start rebuilding my life. I managed to restart my exercise classes - online and in person and getting back into the community felt so rewarding.   
Two years on, Tara is doing well and took part in the Jog 40 January Challenge 2022 to raise money for The Royal Marsden Cancer Charity – as a way of giving back and saying thank you to the hospital that treated her.  
"I don't have to come back to The Royal Marsden anymore and I actually miss it! My scans are all looking clear so the outcome after my diagnosis is definitely a positive one. 
"I'm now on Tamoxifen treatment and it does take it's toll sometimes, it can take it out of you and make you feel tired, but I'm determined to remain positive and upbeat. I'll be on this treatment for 5 years as my cancer was estrogen positive – and this medication blocks the effects of estrogen to reduce the chances of it coming back. 
Taking part in The Royal Marsden's Jog 40 miles in January challenge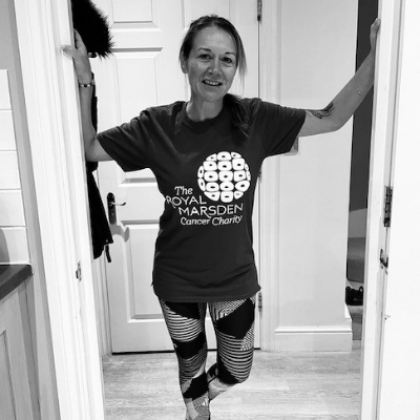 "The Royal Marsden, my kids Ami and Saul, my partner Jamie and helping others with cancer was my inspiration for signing up to the Jog 40 Miles in January challenge to raise money for The Royal Marsden Cancer Charity. 
"I felt like I wanted to give back as I had such great care and I'm so grateful to everyone who treated me. Everyone from the nurses, consultants, reception staff were all amazing. I felt so comfortable, and everyone explained everything to me along the way.
"I absolutely can't fault The Royal Marsden. Without the support I had at the hospital, I don't think I'd be in as good a place as I am now. 
"Despite being a fitness instructor - I'm not a jogger, I do low impact fitness, so I knew the Jog 40 would still be a challenge. I wanted to challenge myself and raise money for a good cause. It really helped me and especially as I knew I was helping others.
"I never had to go through chemotherapy and am now well on my road to recovery. This is only possible thanks to all the treatment I've had and the research which has led to these treatments being available.
"People with cancer are surviving and living longer lives thanks to places like The Royal Marsden – it's amazing. Research is giving people longer with their families. 
Since her treatment, Tara has been able to get back into her fitness classes teaching Paracise – a gentle yet effective exercise programme ideal for those recovering from illness and injuries or returning to fitness after a break. You can find out more about Tara's classes on her instagram.
Take on a challenge!
Find out more about fundraising for us today.