'I want to ensure other patients benefit from The Royal Marsden the way I have'
For Christine and her family, taking part in The Banham Marsden March is a way to give back to the hospital where she has been treated three different times. Here she shares her story.
This year, Christine, 67 from Surrey, and her family will be among the many individuals joining us at the start line of The Banham Marsden March. For Christine, taking part in the march is a way of saying thank you to the hospital which has now treated her three different times.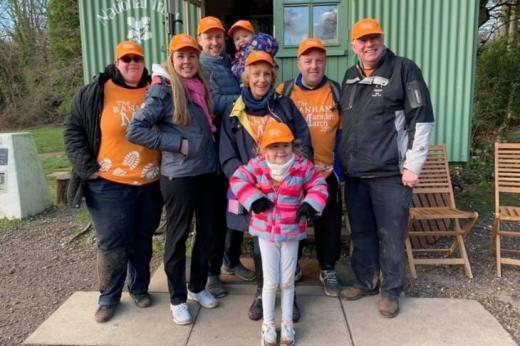 Robotic surgery at The Royal Marsden
Christine's story
Christine first came to The Royal Marsden in 2009 where she received radiotherapy treatment after being diagnosed with breast cancer. Then, in 2017, Christine returned. She had began experiencing some pain and weight loss and was referred to her local hospital for tests. These tests led to a diagnosis of colorectal cancer, and she was referred for a second time to The Royal Marsden.
The colorectal cancer was locally advanced which meant it was also attached to the surrounding tissue in her womb, so Christine underwent a robotic anterior resection (removal of part of the colon) and a robotic hysterectomy, at the same time.
Then, in September last year, Christine ended up back at The Royal Marsden for the third time following a routine mammogram screening.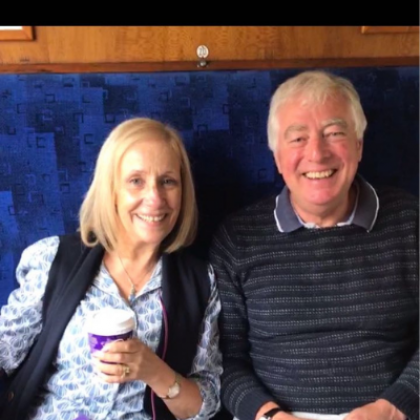 "I have reason to thank The Royal Marsden once again. A small non-invasive ductal cancer was found following a routine mammogram in September 2021 and I requested to be referred to the Royal Marsden. It was a bit of a shock when they told me they'd found something as I really wasn't expecting it. After further investigation, I was assured it wouldn't be life threatening.
The treatment has now been completed and I have experienced the expertise and kindness of the staff of the Royal Marsden for the third time. I'm so grateful to the whole team there."
"My allegiance with The Royal Marsden goes back to 2009, I realised what a special place it was from the first moment I was there. The Royal Marsden are brilliant and thanks to their care and treatment, I'm now doing really well and can't wait to take part in The Banham Marsden March once again."
Marching together as a family
In 2019, Christine, her husband Keith, and their family took part in The Banham Marsden March for the very first time to mark one year on from her robotic surgery. They have also previously organised their own 'My Marsden March' to support the charity.
"We did our own 'My Marsden March' a few years ago when the event was postponed due to bad weather. We decided to walk our five miles at Box Hill, setting ourselves a further challenge of climbing one of the very steep hills. We even bumped into two other groups that were doing the same thing, all of us raising money for the charity."
This year, Christine and her sons Anthony and Neal are planning to walk the full 15 miles between The Royal Marsden Chelsea and Sutton hospitals. The rest of her family are taking part in the day and walking the shorter 5-mile route to the finish line.
"We wanted to do The Banham Marsden March as a family as everyone has been so supportive and got me through some really challenging times. My husband Keith and the rest of my family - Sarah, Ella-Grace and Joshua will do the five mile walk along with our three family dogs, Ruby, Coco and Rosie."
Looking forward to this year's Banham Marsden march
"I took on a 10,000 steps a day challenge to raise money for The Royal Marsden in September 2021, just as my last cancer diagnosis was confirmed. It meant I had something to focus on and I've really tried to keep my fitness up since then – I even bought a FitBit watch. This is another reason I want to do the longer route this year for The Banham Marsden March – I've put in some good training already!"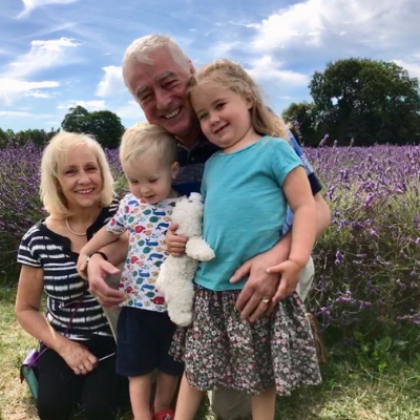 "We're so pleased that the march will be an in-person event again this year, and this will be the first time I'll be taking on the longer route. It feels so nice to be getting back to some sort of normality and walking with all the other supporters this year will feel extra special. Our family has been quite affected by Covid, we couldn't even spend Christmas together, so being able to take part in the March all together will be really lovely.
I'm really looking forward to the social aspect of it, meeting other people and walking between the two hospitals will be quite emotional."
"I think the March is a way we can all give back to The Royal Marsden – not just for the work they do every day, but also to help fund research and new treatments. I want to make sure other patients can benefit from The Marsden the way I have."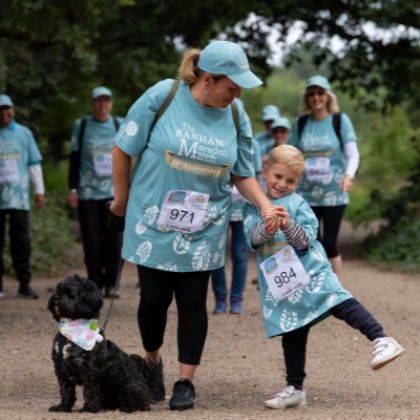 Join supporters like Christine and march with us!
Join us for a fantastic day celebrating and supporting the work of The Royal Marsden and help raise funds for the live-saving work of the Hospital.
The Banham Marsden March
The Banham Marsden March is back! Find out more and sign up for your places today.