What The Banham Marsden March means to me - Laura's March
Since the March began in 2011, Laura has taken part every year. Here she shares her story, and why the Banham Marsden March remains so close to her heart.
There are many different reasons why our supporters decide to take part in The Banham Marsden March. For many, the day holds a deep personal significance. Among the crowd you will find current and former patients, friends, families, doctors and nurses coming together to celebrate and support the work of The Royal Marsden.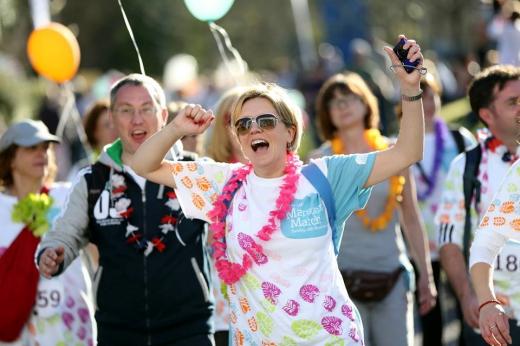 Since 2011, when the march was first launched, Laura Parker (51 from Leeds and now living in Northern Italy) and her husband have taken part every single year.  
"It is such an uplifting event and I'm so proud to take part each year and raise important funds for The Royal Marsden Cancer Charity, helping support the hospital's fantastic research work and treatment." 
In 2008, Laura was treated at The Royal Marsden following a cancer diagnosis.  
"I was diagnosed with cervical cancer at 37 after experiencing irregular bleeding and backache. That was the bad luck. The good luck was that my treatment, which included a hysterectomy and chemoradiotherapy, was at The Royal Marsden. Nobody wants cancer, but there is no better place to be treated – the hospital is truly world class.  
Whilst still recovering from her treatment, Laura took part in the very first Banham Marsden March.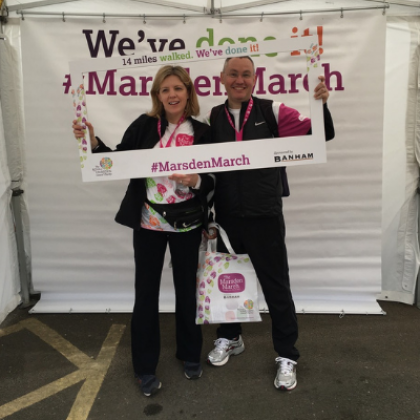 "It was 2011, the very first year of The Banham Marsden March, so I had no idea what to expect. After such intense medical treatment, it took me a long time to be able to walk properly, let alone any distance. It was a challenge, but a really positive one, to be able to walk that far.  
The first time was very emotional, as I was still recovering from my treatment. When I crossed the finish line I felt truly elated and enormously grateful to all who had looked after me. It was such a sense of achievement and relief."
Over a decade on from the first Banham Marsden March, the event Is still an important date for Laura and her family.  
"There is something about being together with all those former patients and current patients and their families in a way to say thank you to the Hospital. There are also people walking in memory of friends and family. You walk along with people and see the signs pinned to the back of people's t-shirts; it is a really moving event."
Taking part in The Banham Marsden March at Home in Italy 
"We even took part last year from my new home in Northern Italy thanks to the new virtual option, which we will be doing this May too if we can't get to the UK. It was great to be able to do the walk - despite the added hills - and know that others were doing it back home."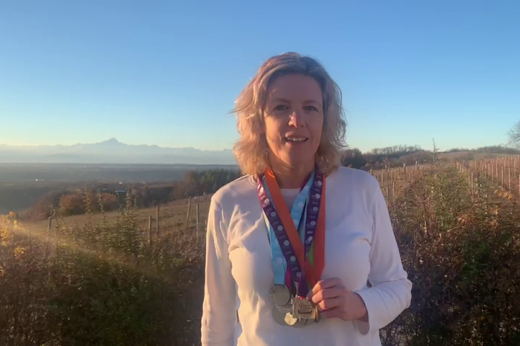 The Banham Marsden March at Home was launched last year which, due to COVID restrictions, asked people to walk in their local area instead of the traditional route. This option is being continued into 2022 to enable our supporters, wherever they are, to take part in the big day.
Laura hopes that this year she and her husband will be able to return to the UK to take part in The Banham Marsden March in person, but if restrictions prevent them from travelling, Laura says that they will find another route in the Italian hills to take part in The Banham Marsden March at home. 
I've never won a medal in my life, but I'm so proud that every year I get one from The Banham Marsden March. I really would never miss it.
This year we will be marching on Sunday 22nd May 2022. Come together with friends and family to walk the 15-mile route between our two hospitals in Chelsea and Sutton or join us for the final leg by taking part in the 5-mile route.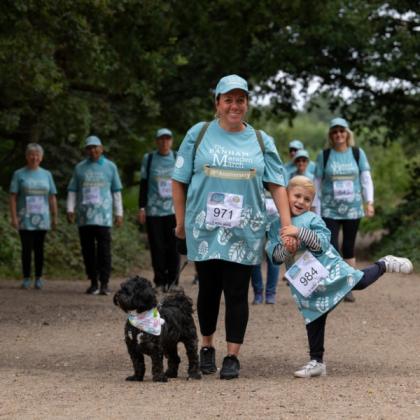 Join supporters like Laura and march with us!
Join us in celebrating and supporting the work of The Royal Marsden and help raise funds for the live-saving work of the Hospital.
Register for your places on The Banham Marsden March today.
The Banham Marsden March
The Banham Marsden March live event is back! Find out more and sign up for your places today.