Royal Marsden mascots meet football legends
Learn more about our inspiring mascots at the Legends of Europe match between Chelsea FC and Bayern Munich, which raised money for The Royal Marsden Cancer Charity and the Chelsea Foundation.
On 9 September 2023 the Legends of Europe football match was held in memory of the late Gianluca Vialli, an iconic former Chelsea forward and manager who was treated at The Royal Marsden.
The team was made up of legendary Chelsea players from different eras of football, who took on Bayern Munich Legends and won an impressive 4-0! All proceeds from the game will be split between the Chelsea Foundation and The Royal Marsden Cancer Charity which supports the work of The Royal Marsden NHS Foundation Trust.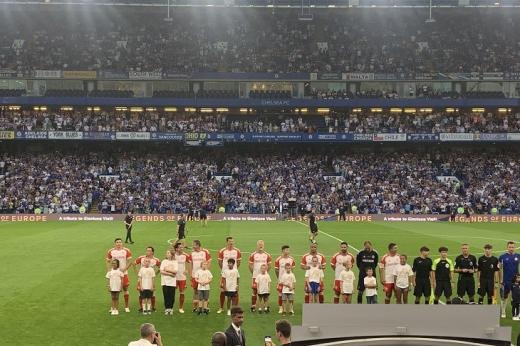 We want to say a massive thank you to Chelsea FC and to everyone who has supported the event. The young mascots – who represented The Royal Marsden Cancer Charity – all had a fantastic time.
Morven
Morven was just seven years old when she was diagnosed with a rare and aggressive rhabdomyasarcoma in her eyelid in 2020. Under the care of The Royal Marsden, she underwent nine rounds of chemotherapy, followed by six weeks of radiotherapy. Morven finished treatment in July 2020 and was declared cancer free in September 2020. She is now a fit and healthy 11-year-old with a passion for sport.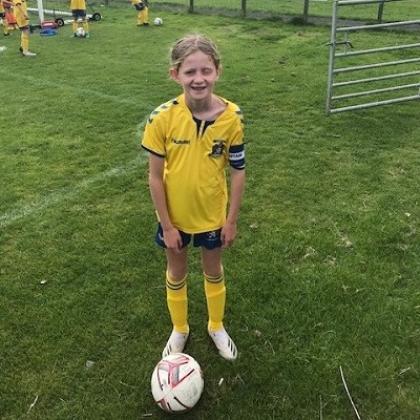 Cara, Morven's mum, said: "Morven inspires us every day. As a family, we want to let others know how incredible and life changing The Royal Marsden is. Without them, I am convinced Morven would not be alive. She is here today and living her absolute best life, and we are so grateful. Morven absolutely loves football, she is signed to a football academy club, Kilmarnock FC, having won every player of the year at her local club St Cadocs. She also took part in Chelsea FC's summer football club which she enjoyed so much."
Reece and Emilie
Siblings Reece and Emilie each covered the equivalent of a marathon over their school summer holidays to support The Royal Marsden Cancer Charity. This was after their dad, Mark, began treatment at the hospital for stage 4 pancreatic cancer. Their incredible challenge raised over £62,000.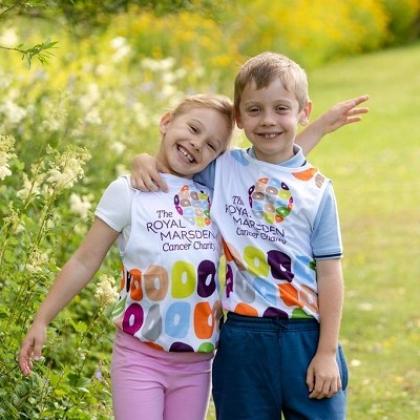 Mark said: "I have been so impressed by the exceptional care and treatment I've received at The Royal Marsden. I'm also aware there is so much more that goes on behind the scenes, such as innovative cancer research and the development of all aspects of cancer care. It was an honour for my family and I to attend the Chelsea vs Bayern Munich Legends match, and support what is a particularly poignant cause, given I share the same diagnosis as the late (and legendary) Gianluca Vialli. The children were extremely excited to be mascots on the big day!"
Pippa
12-year-old Pippa was treated at The Royal Marsden after being diagnosed with acute lymphoblastic leukaemia (ALL) in 2017 when she was just five years old. She underwent intensive chemotherapy treatment which lasted around 18 months. Pippa has now been cancer free for over four years and wants to become a doctor after being inspired by those who saved her life.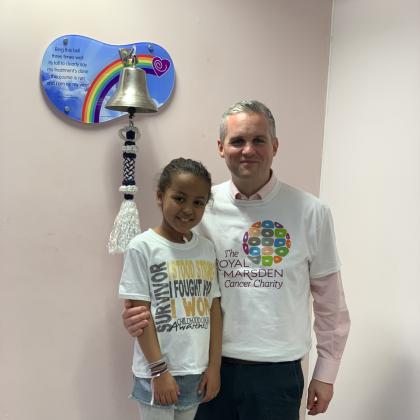 Pippa's mum Laura, who is a big Chelsea FC fan, said: "Even when you drive through and park your car in the hospital car park you feel like you are home. The facilities at the hospital were amazing and we were relieved to have the expertise of The Royal Marsden's cancer specialists throughout Pippa's time there. Pippa is thriving now and doing so well after her treatment, she's enjoying a new lease of life and was really chuffed to be part of the Chelsea FC activity."
Wilf
Wilf was diagnosed with Stage 4 Wilms Tumour, a rare kidney cancer, last year when he was just six years old. He was treated at The Royal Marsden with chemotherapy and is now in remission.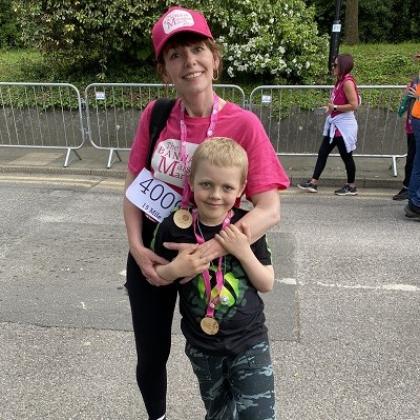 Wilf's mum, Tori, said: "It was a terrifying diagnosis and I can still remember the feelings of disbelief, fear and utter helplessness. But we were so lucky to have the brilliant team at The Royal Marsden to help us – the consultants, the research scientists, the technicians, the clinical nurse specialists, the play therapists. So many wonderful people helped us through our difficult journey. 
Wilf's dad Tim added: 'We are so grateful to The Marsden. Wilf was thrilled to be part of the mascot team at the Chelsea game to support The Royal Marsden Cancer Charity!"
Make a difference to the lives of cancer patients both at the hospital and around the world.