Support for Interventional Radiology from Dame Deborah James' Bowelbabe Fund
The Royal Marsden Cancer Charity is among the first beneficiaries of the Fund, which will continue Dame Deborah's incredible legacy by funding research and awareness-raising projects 
The £1 million of funding going to The Royal Marsden Cancer Charity will support the installation of a new, advanced Interventional Radiology X-Ray machine at The Royal Marsden.  
This is part of the first round of projects set to benefit from the Fund, which is focused on research into early detection and personalised medicine as well as raising awareness of the signs and symptoms of cancer.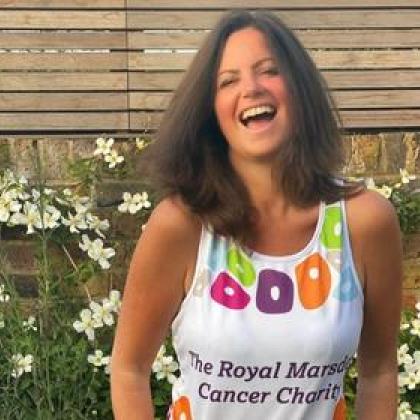 A lasting legacy 
Known as 'Bowelbabe', Dame Deborah was an inspiration to many people with cancer, and a passionate supporter of The Royal Marsden Cancer Charity. Following her diagnosis with stage 4 bowel cancer, she used her experience and platform to break down the barriers around talking about bowel cancer, to fundraise and to raise awareness of the importance of early diagnosis and research.  
In her final weeks, she worked to establish the Bowelbabe Fund to support causes and projects she was passionate about, including The Royal Marsden Cancer Charity.  
Supporting innovative cancer treatment  
Interventional radiology (IR) was an important part of Dame Deborah's treatment at The Royal Marsden. It uses imaging techniques to treat cancer in a minimally invasive way and is often used as an alternative to surgery.  
Imaging methods such as real-time X-rays, ultrasound, CT or MRI scanning are used to guide treatment directly to the cancer site. The precision achieved dramatically reduces side effects and minimises damage to other organs and tissue located near tumours. 
The new machine in The Royal Marsden's Interventional Radiology suite will improve the delivery of this innovative treatment for patients. It offers enhanced image resolution, allowing patients to have quicker and more accurate diagnosis and treatment. It will also support research being carried out by scientists and clinicians, helping to develop advanced targeted therapies for the benefit of cancer patients everywhere.  
Continuing our world-leading research
Antonia Dalmahoy, Managing Director of The Royal Marsden Cancer Charity, said: "We are extremely grateful to Dame Deborah James, her family and the Bowelbabe Fund for this generous support.
It is an incredible way to continue Dame Deborah's legacy for many years to come, not only ensuring that patients at The Royal Marsden continue to benefit from the very latest treatment, but also helping to support world-leading research at the hospital that will transform the lives of cancer patients everywhere."
Your support helps us invest in state-of-the-art equipment like this.
The Royal Marsden Cancer Charity is the largest charitable funder of research at The Royal Marsden.  
Thanks to our supporters we are able to fund pioneering clinical trials, state of the art equipment, purpose-built facilities and world-leading leading cancer experts. 
Discover more about ways you can support us.
From research updates to marathon runners and your stories, take a look at our blog.