World first innovative new therapy
A patient at The Royal Marsden has received chemotherapy assisted by an innovative new technology that uses microscopic clusters of bubbles and liquid droplets or 'acoustic cluster therapy' to enhance the delivery of drugs to tumours.
As part of a new clinical trial investigating 'acoustic cluster therapy', clusters of microdroplets and microbubbles are injected along with the patient's chemotherapy. An ultrasound scan then converts the clusters into an activated form within the tumour. Once activated, with further ultrasound the clusters help to 'pump' the drug into the tumour, greatly increasing the amount of drug which reaches the cancer cells. This promises to improve the effectiveness of the chemotherapy by better targeting it to the cancer site.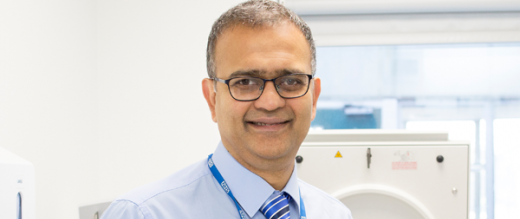 An early clinical trial aims to provide early data on the effectiveness of the therapy as well as establish its safety, and is being led by researchers at the Oak Drug Development Unit (DDU), a joint unit of The Royal Marsden and Institute of Cancer Research which is funded by The Royal Marsden Cancer Charity.
The trial is open to patients with secondary tumours in the liver that have spread from bowel or pancreatic primary tumours. If successful, acoustic cluster therapy could enter larger clinical trials and potentially trials in other types of cancer and could one day mean that patients could be given reduced doses of chemotherapy to reduce side-effects.
Professor Udai Banerji (pictured above), Deputy Director of the Oak Drug Development Unit, said:
Preclinical research has shown that this acoustic cluster technology could help to increase the dose of chemotherapy to tumours, potentially allowing a reduced dose to the rest of the body. It's a real cross team effort to deliver this treatment involving radiologists, physicists and nurses who all work together to provide the treatment and support the patient throughout the process. We're hopeful that this trial could help open up a much-needed new option for patients with hard-to-treat advanced cancers.
Read more stories
Find more stories from our patients and read about The Royal Marsden's life-saving research.