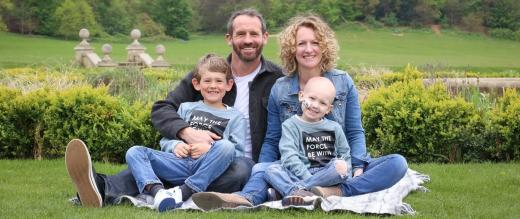 George and the Giant Pledge
Vicki and James 'Woody' Woodall, decided to start George and the Giant Pledge to fundraise for The Royal Marsden after their son George was diagnosed with a rare form of cancer. They wanted to raise a million pounds and they've already raised over £950,000!
Google has chosen George and the Giant Pledge, a fundraising initiative to help beat childhood cancer with The Royal Marsden Cancer Charity, as its inaugural UK Charity of the Year. Donations to the Woodalls' campaign will fund much-needed research into childhood cancer as well as support children and their families at The Royal Marsden's Oak Centre for Children and Young People.
Almost a year on from diagnosis, and just in time for Christmas, five-year-old George Woodall rang the 'end of treatment bell' at the Oak Centre for Children and Young People. 
It started with Tony the Tumour...
During December 2016 little George Woodall, at the tender age of 4, was being investigated for a tumour to the right of his spine, which the family had nicknamed 'Tony'. Then at the beginning of January 2017, they received the news that it was a Primitive Neuro Ectodermal Tumour, part of the Ewing Sarcoma family of tumours, which are both rare and cancerous.
George's amazing family have been supporting him throughout his treatment at The Royal Marsden in Sutton. He has also had a trip to the US for proton therapy. But at the same time, they have poured their efforts in raising money so that other kids with cancer like George can be helped by The Royal Marsden.
George's parents Vicki and Woody set up George and the Giant Pledge with an initial target of £100,000 but incredibly they reached this within two weeks. So they set their sights higher - to raise a whopping £1 million. Within 10 months they smashed the halfway mark!
This incredible dedication to supporting The Royal Marsden earned the Woodalls the Outstanding Commitment to Fundraising award at the 2017 JustGiving Awards in November 2017 as well as recognition from the UK's Prime Minister with a Points of Light award in December that year.
In October 2018 the Woodalls won ITV London's Fundraiser of the Year, and went on to be regional finalists in the Pride of Britain awards. 
They are truly an inspiration to us all.
Help George reach £1 million
The amazing Woodall family and Team George have already raised 95% of their target! Can you help the amazing Woodall family get all the way to £1m and do your bit to help children with cancer like little George.
We are so grateful to each and every one of Team George and the Giant Pledge – their generosity, commitment and creative genius continues to astound us.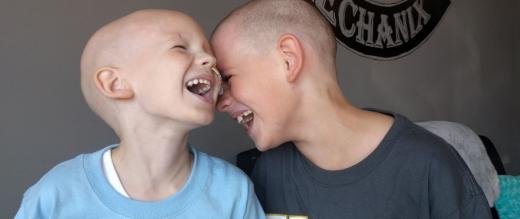 From film nights to poo songs...
The promotion of the cause and the fundraising itself by the Woodall family and their ever-growing George and the Giant Pledge gang of supporters has seen all kinds of activities from bake sales and egg hunts to curry, film and quiz nights, a team running the Royal Parks Half Marathon and more than one hundred caped Giant Pledge crusaders on the 2017 Marsden March.
Some of the most inventive ideas have included recording a charity single - about doing a poo! (see below) - and head shaves with hair donated going to make wigs for children with cancer. Even big brother Alex got his wild surfer-style curls shaved off in support of George. 
The family, friends and colleagues have been showcasing their achievements on social media. 
The Big Poo video
A viral charity single: can you do the do too with The Big Poo song by George and the Giant Pledge? ?
Reaching this point has been one hell of a team effort that we should all be super proud of. Woody and I couldn't be happier with what we've all achieved so far and the huge impact it's already having on children with cancer.