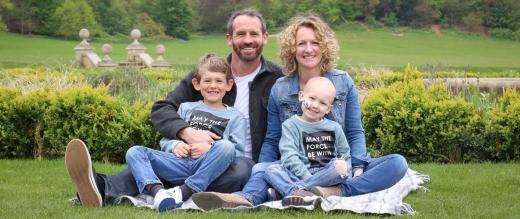 George and the Giant Pledge smash their £1 million target
The Woodall family set out to raise £1 million for The Royal Marsden Cancer Charity when their youngest son was diagnosed with a rare type of cancer, this weekend they smashed their target.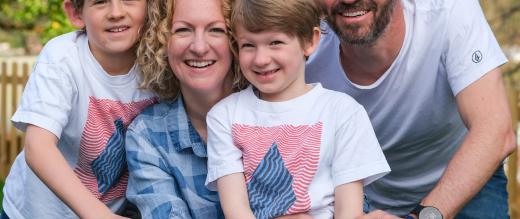 How it started 
Vicki and husband James 'Woody' Woodall created George and the Giant Pledge when they were awaiting confirmation of their son George's diagnosis in 2017, when George was four years old.
Woody said: "Seeing all those young children with no hair and tubes coming out of them on our first visit to The Royal Marsden was truly heart-breaking. Yet the thing that struck us the most was how many of those kids had a smile on their face. It was then that we decided to set up 'George and the Giant Pledge', because no child should ever have to have their childhood taken from them in this terrible way."
Throughout George's long and debilitating treatment for a PNET soft tissue Ewing's Sarcoma, Vicki and Woody strived to make the best of their bad situation; while navigating George's gruelling cancer journey, supporting their other son, Alex, and trying to maintain some semblance of family life, they threw everything they had left into fundraising to support The Royal Marsden's research into childhood cancer.
Over the course of 2017 George endured 14 rounds of chemotherapy, had part of his spine removed during 10 hours of complex surgery and received proton therapy in the USA. He's since had a body brace fitted to help correct the curvature of his spine- a side-effect of the surgery- and after another clear scan has now been free of cancer for a year.
It's been amazing to have so much support from everyone, friends, family, colleagues, even people we don't know, to enable us to reach the £1million mark. We're so proud to be able to help The Royal Marsden Cancer Charity fund much needed research into childhood cancer, and support other patients and families going through treatment.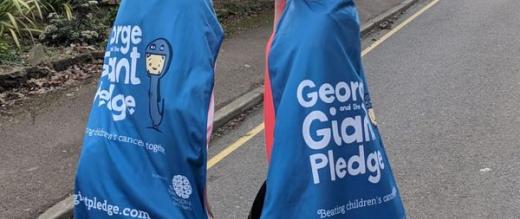 Throughout their ordeal, Vicki and Woody have worked tirelessly, from selling 'George and the Giant Pledge' capes to holding auctions, raffles and quiz nights, marathons and rallying their troops for The Banham Marsden March. Every day they have written a blog to give their followers an insight into childhood cancer and to inspire people to join their £1 million mission.
They have been hugely successful in getting celebrities to back their campaign, including Jack Whitehall who donated proceeds from a special performance to the Giant Pledge, and Dame Kelly Holmes who gave up her time to help Woody prepare for April's Brighton Marathon and Vicki for this weekend's London Marathon.  In 2018, with The Royal Marsden Cancer Charity they were also named Google's inaugural UK Charity of the Year.
George and the Giant Pledge is supporting a range of posts and research work through The Royal Marsden Cancer Charity, specifically in the Oak Centre for Children and Young People- one of the largest comprehensive children and young people's cancer centres in Europe.
The money raised will go towards paediatric research and support for children and their families, for example they will be funding a paediatric psychologist, a consultant post in The Oak Paediatric Drug Development Unit so that The Royal Marsden can run more trials to help find better treatments for children and young people, and a research fellow to work specifically in childhood Sarcoma.
We're hugely grateful to the Woodall family and all those who have supported George and the Giant Pledge with this incredible achievement. You can find out more about the world leading work of the Oak Centre for Children and Young people here, and read more about George and the Giant Pledge on their website.  
We are immensely grateful to Vicki and Woody for dedicating what little time they had while George was on treatment, and beyond, to raise money for us. They are absolutely inspirational.
You can still support George and the giant pledge by donating on Just giving.