Q&A with Dr Helen McNair, Lead Research Therapeutic Radiographer
Dr Helen McNair was involved in the research and design of the MR Linac. Since the machine has been in clinical use, she has been the radiographer research lead.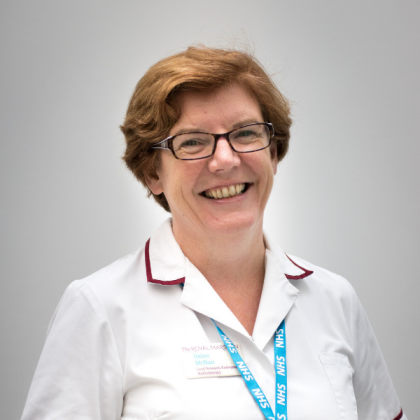 What does the MR Linac do?
The MR Linac (pictured below) combines two technologies – an MR scanner and a linear accelerator – to precisely locate tumours, tailor the shape of X-ray beams in real time and accurately deliver radiation to moving tumours. The Royal Marsden was the first centre in the UK to install the machine, in November 2016. This was made possible by a £10 million grant from the Medical Research Council to The Institute of Cancer Research, with additional support from The Royal Marsden Cancer Charity.
What is your role in the MR Linac?
Initially I was involved in co-designing the MR Linac suite and developing the research protocols to investigate the benefits of the MR Linac. Since the machine has been in clinical use, I have been the radiographer research lead. This involves being part of a multidisciplinary team and developing the processes and treatment plans for patients being treated on the machine.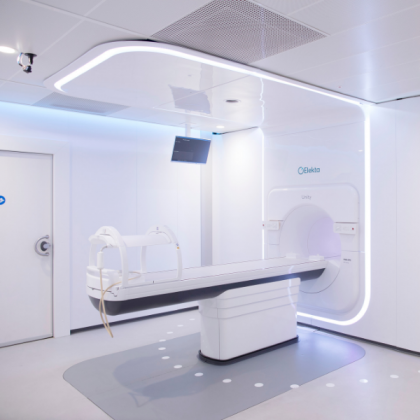 How is it different from a regular radiotherapy machine?
At the moment, we use MRI scanners to help plan patients' radiotherapy treatment. This is done several days before treatment starts, and the resulting image helps us pinpoint where in the body we need to aim the beams. However, having a scanner as part of the MR Linac means we see the image on the day the patient is receiving their treatment and can adjust the treatment far more accurately than before – in real time.
Why is this machine and technology so good for patients?
Locations of tumours and organs can change over time. For example, a tumour in the lung will move up and down as a person breathes, while a tumour in the prostate or rectum may move from day to day, depending on what the patient has eaten or how full their bladder is. The groundbreaking precision of the MR Linac allows us to adapt the treatment each day to better target these types of tumours so we can safely deliver higher doses of radiation, making radiotherapy more effective and reducing side-effects for patients.
The latest news from MR Linac 
The Royal Marsden have begun treating patients on the MR Linac without a clinical oncologist present, following a training and supervision programme. The hospital's Radiotherapy Department has been at the forefront of the revolutionary MR Linac treatments since the first UK patient was treated here in 2018.
Now, therapeutic radiographers – who already lead radiotherapy delivery on standard linear accelerator machines – have taken on this role alongside patient setup, image acquisition and registration, and treatment delivery.
It is very exciting for us to have progressed to this stage. This will mean improvements in efficiency and more flexible treatment times for patients