Supergrans hit the skies
Wow - is it daredevil season? Two grannies took to the skies to fundraise for The Royal Marsden Cancer Charity. Amy Cook celebrated her ninetieth birthday with a tandem parachute jump and Elizabeth Bishop - a sprightly young eighty - abseiled the ArcelorMittal Orbit in September.
Ninety is the new twenty
Seriously though, what is it with grannies these days? No longer content to knit squares for charity, make jam for village fêtes or join a local whist drive or tea-dance, it seems our nanas are now taking to thrill-seeking.
Eighty is the new thirty. And ninety is the new twenty! Or so think Elizabeth Bishop and Amy Cook. These ever-young grannies are taking to the skies and we couldn't be more proud... and just a little bit scared!
Amy dives 13,000 ft for her daughter
Amy Cook, who has three children, eight grandchildren, eleven great-grandchildren and one great-great-grandchild, marked her ninetieth birthday by skydiving to fundraise for us.
I've always wanted to do a skydive. My grandson Tom's jump gave me the idea. Now it's my last chance and a great way to thank The Royal Marsden for taking care of my daughter.
Diagnosed in 2015 with breast cancer, Amy's daughter, Jane, underwent surgery and radiotherapy at The Royal Marsden. But she has mixed feelings about her mum's daredevil stunt.
I wasn't pleased when I found out about what she was planning but it's wonderful to raise money for such a worthy cause. The hospital staff have been wonderful and I cannot fault the care I've received.
Watch Amy's amazing jump video
Most of them think it's wonderful but a couple of people think I'm mad. I'm a late starter – I learned to swim in my forties and to drive in my fifties!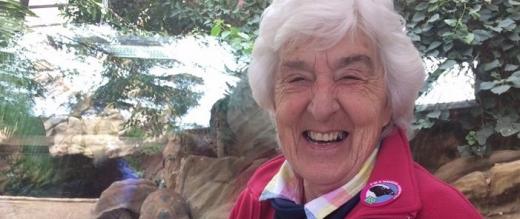 Elizabeth throws herself off the UK's tallest sculpture
Intrepid nana Elizabeth Bishop, eighty, abseiled 232ft down the ArcelorMittal Orbit to raise money for The Royal Marsden, where her grandson Dan is being treated.
I'm trying to raise as much money as I can because they provided excellent care and treatment for my grandson, Dan. 
Dan was diagnosed with Hodgkin lymphoma in May 2015. When he relapsed in 2017 he was transferred to The Royal Marsden in for a stem cell transplant that used his own cells. Speaking of his gran's challenge he says:
She's always done mad stuff so it's no surprise. It's very exciting and kind of her and I'll be there on to cheer her on.
Elizabeth, who has two children and four grandchildren, began taking on action-packed adventures in her late seventies, including a wing walk, a skydive and a zip wire from Spain to Portugal.
I have always been an outdoor girl as I was a farmer's daughter but up until my seventies the most extreme activity I had undertaken was dog walking.

I didn't want to sit at home vegetating so I started off with a zip wire in Wales and it's escalated from that.
Throw a lifeline...
Our patients face huge challenges every day that take as much guts as it takes for our favourite grannies Elizabeth and Amy to take on these daredevil stunts. And more.
It's thanks to supporters like these that mean we can be there for everyone who needs us. But if you don't have the stomach for it...