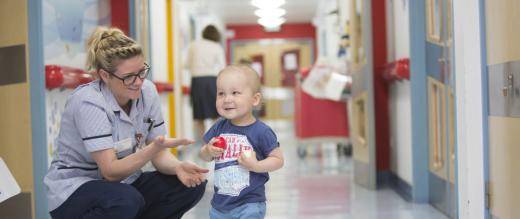 ​Treating children with cancer
Thanks to your support, The Oak Centre for Children and Young People opened in Sutton in 2011 and has been changing the way The Royal Marsden treats children with cancer ever since. Discover what happens in the centre.
Designed for - and by - children
Dr Julia Chisholm, Head of the The Oak Centre for Children and Young People (OCCYP), says "We've been treating childhood cancers at The Royal Marsden since the early 1970s, but the OCCYP is a facility designed especially for children and young people.
Our young patients are treated by our teams in a specialist, age-appropriate facility with chemotherapy and radiotherapy. We also have one of the largest stem cell transplant services in the UK.
The centre includes a playroom, therapies rooms, chill-out zones, school and study rooms, parent areas, and an outdoor roof terrace. Many of the young patients helped design the centre.
Latest news - ranked among the top Trusts
We're delighted that The Royal Marsden has been ranked among the top Trusts in the country for patient experience for children following results from the 2018 NHS Children and Young People's Patient Experience Survey which were published by the independent regulator the Care Quality Commission.
Nearly 100 parents, carers, children and young people at The Oak Centre for Children and Young People took part in the survey which asked questions about admission, the hospital ward, hospital staff, and facilities for parents and carers, pain management, operations and procedures, the discharge process and their overall evaluations of their care.
Every year we treat
5,000 day patients
at The Oak Centre for Children and Young People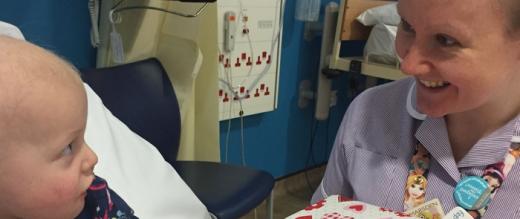 "The play specialists were wonderful"
Charley is mum to three-year-old patient Lottie, who was diagnosed with neuroblastoma, a rare childhood cancer.  
Lottie would only talk to me, refused to get out of bed, and was terrified of the playroom and the play team too.

They have worked solidly to earn her trust, and today, she runs up the corridors shouting their names, squealing with excitement.
We've served up 155,000 meals in our two kitchens since the centre opened. We cook whatever our patients like to eat, as their taste buds often change with treatment.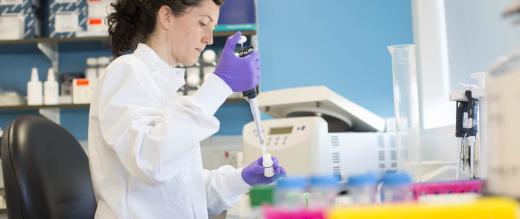 World-leading cancer research and treatment
The OCCYP is one of the most comprehensive children's cancer centres in Europe, but it's also home to one of the largest drug development programmes for childhood cancer.
For the first time worldwide, young patients are now offered early access to trials of new cancer drugs that have been developed by experts in our own laboratories. We're now the UK's leading centre for Phase I and II drug trials for children.
Thanks to the number of studies we run, we now have more options available to treat a wider range of childhood cancers than ever before.
We need your help
Your support meant we could build the centre, but we need help to continue our care for children and young people with cancer.