Angela's star for her late daughter, Naomi
Angela has named a star for a number of years since Naomi passed away in January 2004, aged just four years old.
Naomi received treatment at The Royal Marsden in Sutton for neuroblastoma – a type of cancer that affects children, usually under the age of five. Angela attends the Celebrate a Life service at our Sutton hospital with her other daughter Elsa. This year is the 20th anniversary of Celebrate a Life, and January 2024 will also mark the 20-year anniversary of Naomi's death. 
"I've been to quite a few of the Celebrate a Life carol services in Sutton. I quite often take my daughter Elsa, she was born after Naomi died and she's 18 years old now. It's nice for her to be part of everything too.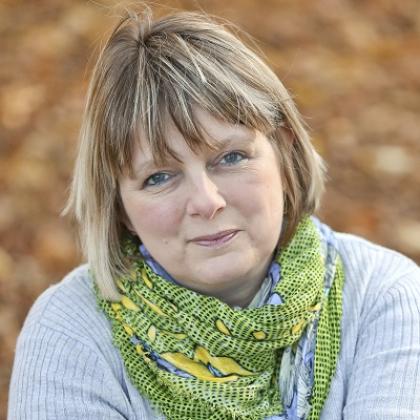 The atmosphere at the carol service is always so nice, lots of people are there for similar reasons to you. Sometimes when you're trying to find your star on the Christmas tree you end up chatting to other people and helping them find their star as well and talking about who they've named theirs for. It feels like a community, that you're all in it together.
For me, Celebrate a Life really helps, it's so nice to be able to remember Naomi in this way.
Naomi's birthday is 15 December and she died quite suddenly 1 January 2004, so the weeks and months surrounding this are quite poignant. The Christmas tree is always still up on the 1 January – so our Celebrate a Life star is always there for both Naomi's birthday and the anniversary of her passing which feels really special.
I think I'll take part in Celebrate a Life every year and I would definitely encourage other people to take part as it's such a lovely way to remember a loved one."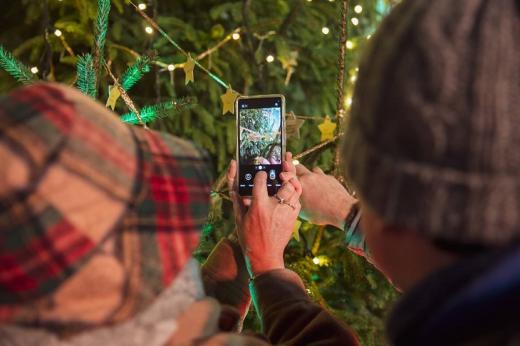 Naomi's neuroblastoma diagnosis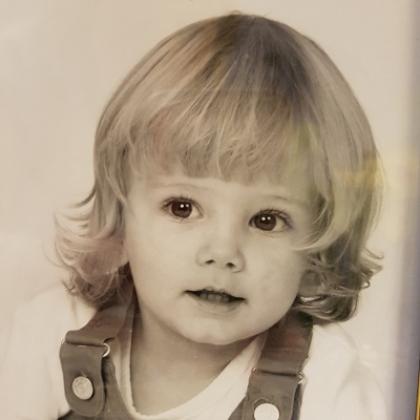 "It was May 2002 and Naomi was just two and a half years old. She'd been absolutely fine, but during the first Bank Holiday in May she got sent home from nursery because they said she was very sleepy and just not herself.
I took her to the doctor on the Friday night who said she might have an infection and gave her some antibiotics. I then took her to an out-of-hours doctor on the Saturday and again on the Monday as I just felt she wasn't right.
She ended up in our local hospital in Tunbridge Wells on the Bank Holiday Monday and they told me she had an enlarged abdomen. They kept her in overnight and did some tests and scans, including an ultrasound. The results from this scan showed that Naomi had a four-inch tumour in her abdomen.
It all happened so quickly. One moment Naomi was perfectly healthy and the next we were being told she had a four-inch tumour – this all happened in the space of about four days. On the Wednesday we moved to The Royal Marsden in Sutton and from that point onwards, the team there were just amazing. They did all the initial tests when we first arrived and confirmed Naomi's diagnosis – it was stage 3 neuroblastoma."
Treatment at The Royal Marsden  
Naomi went on to have treatment, which included chemotherapy, surgery and a type of radioactive treatment at The Royal Marsden. The radioactive treatment seemed to have a small effect, but sadly things changed going into Christmas time.
"Naomi was able to have Christmas Day at home but on Boxing Day she spiked a temperature. She went into one of our local hospitals and I could see how much her abdomen was swollen again so the tumour must have been growing rapidly. She was due to be at The Royal Marsden on New Year's Eve for a pre-planning session ahead of a course of radiotherapy, but she'd gone so downhill. They moved her to a bed on the ward in the children's unit and she died on the evening of New Year's Day.
Surrounded by people who really cared for her
People often say that they'd prefer their loved ones to die at home and not at hospital. But The Royal Marsden team really looked after Naomi so well. There wouldn't have been any time to move her to be at home. It felt really nice to be around all of her clinical team – we'd been in and out of the children's unit for about 20 months so everyone knew Naomi well and we knew all the nurses and doctors well too. Naomi was looked after by people she knew, and they stayed with her in those final moments. When she died, she was surrounded by people who really cared about her.
The Royal Marsden was such an amazing place to be and everyone was so caring. I always felt that the teams did absolutely everything they could for Naomi."
Celebrate a Life is a truly wonderful way to celebrate the lives of those who are deeply special to you. By naming a star for someone special and making a donation, you are making a vital difference to the lives of cancer patients and their families.
Who will be your shining star?