Chris's star for his partner of over 25 years, Helio
Chris names a star for his partner Helio as a thank you for everything he did for him during his cancer treatment at The Royal Marsden.
77-year-old Chris was treated at The Royal Marsden in 2017 after he was diagnosed with cancer in his small intestine. He spent a considerable amount of time at the hospital in Chelsea, undergoing surgery and chemotherapy treatment. Helio was always by his side, coming with him to all of his treatment sessions. Last December, Chris marked his five years all clear and has taken part in Celebrate a Life for a few years now.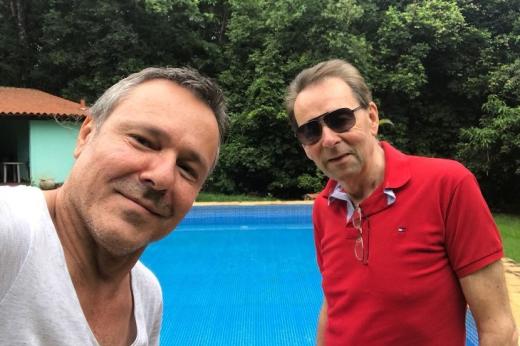 "When I heard about the Celebrate a Life event, I knew straight away that I wanted to take part and name a star for Helio – he was with me every step of the way.
When I was recovering from surgery I was on a ward at The Royal Marsden for a while, connected to drips and feeds and tubes. Helio's support was unconditional. He came every day for treatment with me and always put himself out. The bond between us is strong – it always has been, but I think this brought us closer together.
Christmas is such a busy and emotional time, it's easy to be so busy and you forget what it's really all about. I would really recommend supporting The Royal Marsden Cancer Charity and getting involved in Celebrate a Life. This event epitomises everything that The Royal Marsden stands for. The universal admiration and love that you can feel at the carol service – it's all for The Royal Marsden and the people whom the hospital has helped."
For me, at Christmas and at Celebrate a Life, it's a time to say thank you. Thank you to my star Helio. Thank you to The Royal Marsden.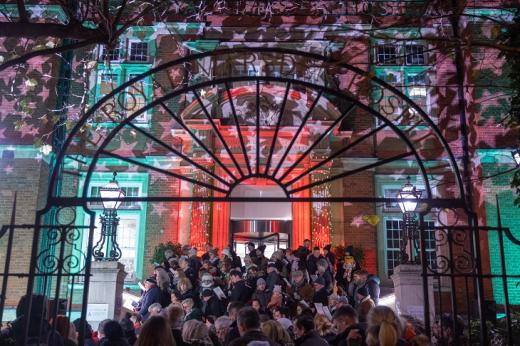 Chris's cancer diagnosis
"I had retired when I received my cancer diagnosis, and I was a very busy person up until that point. My symptoms started as hiccups that wouldn't stop before I started being really sick.
I ended up needing to go to A&E and Helio had to keep pulling over in the car so I could be sick, it was awful. They did lots of tests and told me that I had a blockage somewhere but they weren't sure if it was in my duodenum (the tube connecting the stomach to the middle part of the small intestine.) I underwent a bypass procedure, and this is when they told me that they'd found three small spots of cancer which needed to be explored further.
I went on to have more tests and the oncologist at the hospital confirmed he wasn't able to operate again as the tumours were too big and close to my aorta artery, so I would likely need chemotherapy treatment.
Being given a cancer diagnosis made me feel like I was in a haze – I couldn't believe this was happening. At this stage, my clinical team told me I should be referred to The Royal Marsden to see what they could do. So, in February 2017, I stepped through the doors of The Royal Marsden for the first time.
Chemotherapy and surgery at The Royal Marsden
The Oncologist at The Royal Marsden was lovely. The team there said I needed six cycles of chemotherapy to shrink the tumours – with the aim that I could then undergo surgery to remove them.
Chemotherapy treatment really took its toll and changed a lot for me, I stopped eating and lost 15kg in weight in a short space of time. After 12 weeks, I then underwent a Whipple procedure. This is quite a significant operation where the surgeon will remove any cancerous tumours and rejoin the stomach, bile duct and pancreatic duct to the small bowel. I was really anxious reading all the information about the surgery beforehand, I couldn't believe I had to go through this.
The operation went very well and I made such a good recovery that I didn't need any further treatment post surgery! I then started a five-year plan of six monthly monitoring scans and blood tests.
The Royal Marsden has a reputation worldwide and the staff were amazing – a total joy to be around. I bonded with one nurse over church and music, she would stay up speaking to me even at 3am when I couldn't sleep and bring me a cup of tea.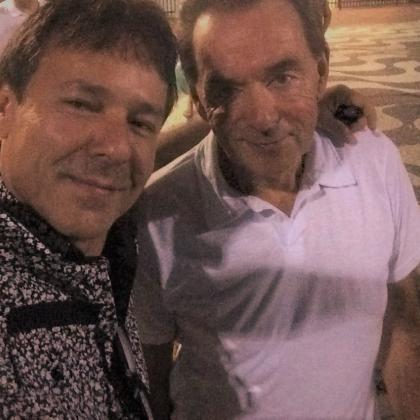 Five years 'all clear'
In December last year, I had my last appointment at the end of my five year post-diagnosis monitoring. Wow, five years all clear – I was emotional but also felt like I didn't want to be on my own as having the regular monitoring was always such a reassurance. I can't wait to start living my life again without having so much fear of the cancer coming back. Helio and I often visit Rio and stay in a flat in Copacabana, we enjoy spending time together there."
Celebrate a Life is a truly wonderful way to celebrate the lives of those who are deeply special to you. By naming a star for someone special and making a donation, you are making a vital difference to the lives of cancer patients and their families.
Who will be your shining star?