"A clinical trial has transformed my life" – Jenny's story
Jenny, 73, was diagnosed with lung cancer in February 2020, just before the COVID-19 lockdowns started. Here, Jenny shares her story this lung cancer awareness month. 
Jenny, 73, was diagnosed with lung cancer in February 2020, just before the COVID-19 lockdowns started. After initially being told she might only have six months to live, she came to The Royal Marsden and her cancer is now stable after being treated through an immunotherapy clinical trial for a year.
"I was diagnosed with lung cancer three years ago, on 21st February 2020 - just before the COVID-19 lockdowns started. I remember the exact date as it's my daughter's wedding anniversary.
"I'd been to see my GP in the January as I had a weird feeling in my lungs and was coughing a lot. We live by the South Downs, which is quite hilly. I usually walk five miles a day with my dog so would consider myself to be quite fit, but I kept getting out of breath. At 70 years old, I put some of my symptoms down to age.
"My GP examined me and sent me to the hospital that day for a chest X-Ray. I went on to have a CT scan and various other tests the following week which showed that not only did I have lung cancer, but it had spread to different parts of my body. I was told I might only have 6 months left to live.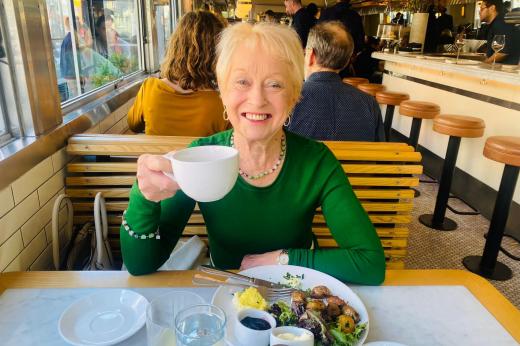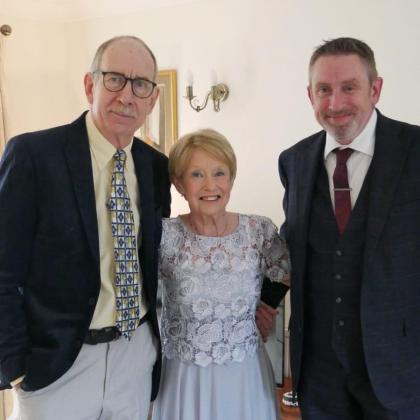 The significance of a liquid biopsy test and joining an immunotherapy clinical trial
When Jenny was given her diagnosis and told she might only have six months left to live, she came to The Royal Marsden for a second opinion. She was offered the opportunity to have a liquid biopsy blood test. Liquid biopsies involve analysing blood samples to detect small fragments of genetic material that tumours release into the bloodstream, known as circulating tumour DNA (ctDNA).
"As a result of a liquid biopsy test which showed a rare HER2 mutation in my cancer, I was able to join an immunotherapy clinical trial at The Royal Marsden that was specifically targeted to my type of lung cancer. This clinical trial has completely transformed my life."
"I had no hesitations about going onto a clinical trial, I was just so pleased to have the opportunity. Before going onto the trial, you are told about all the possible side effects, but I was never concerned because I was always so closely monitored whilst receiving treatment. I have had regular blood tests, ECG scans and echocardiograms."
"After starting treatment on the trial, my scans very quickly showed that I was having a positive response and my cancer was stable. The second set of scans I had after joining the trial showed that the tumours had shrunk in both my lungs and my lymph nodes are a normal size now."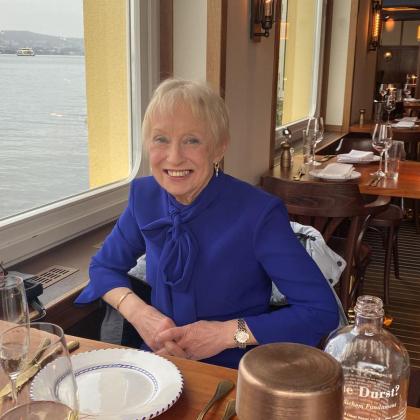 Importance of research and supporting other members of the family through cancer
Jenny received treatment through this immunotherapy clinical trial for around 13 months before coming off treatment due to possible side effects with her heart and kidneys. Her cancer remains stable, she's back to walking five miles a day and recently travelled abroad to visit her daughter and granddaughter. Jenny is currently supporting her husband and son who are both also being treated for different cancers.
" I've now been stable for around 18 months which is amazing. Because of this trial, I am now leading a completely normal life. I feel so much better now compared to how I felt before I was diagnosed three years ago.
"The fact that this trial treatment has worked for me has been amazing. At the moment I'm not on any active treatment. I'm being monitored and scanned very regularly and hoping the immunotherapy I had will continue to help control the cancer.
"My eldest son is 51 years old and is also being treated at The Royal Marsden following a melanoma diagnosis. I speak to him most days and we both know we're in the best place; the doctors are doing everything they can to help.
"My husband Jeff has chronic lymphocytic leukaemia (CLL) and is having chemotherapy under the care of our local hospital. He was first diagnosed 11 years ago and was given five years to live but he's still here! It's so good to know that there are new drugs and treatments coming out all the time. People are living with cancer longer because of clinical trials like the one I was on.
"The team at The Royal Marsden are just amazing, all the staff are fantastic. I really appreciate the level of care and treatment I've had.
"Research and clinical trials like this are so important; they give everyone hope. I know I have terminal cancer but I'm 73 years old and if I have even just another 2 years to spend with my family and to travel the world that would be wonderful. You really do appreciate life so much more after going through a cancer diagnosis."
Discover more inspiring stories on our blog