"I'm hopeful that taking part in this clinical trial could help other patients like me in the future."
Here, Louise shares her experience of cervical cancer treatment at The Royal Marsden, taking part in a clinical immunotherapy trial, and braving a skydive to raise vital funds for cancer research.
After being diagnosed with cervical cancer in 2021, Louise was referred to The Royal Marsden.
"In July 2021 I had a hospital procedure, as my doctor thought I might have fibroids. When I came round, they told me they thought it might be a cancerous tumour instead. My samples were then sent off for a biopsy and they confirmed that cancer had been detected. At this point, they thought that it was stage 1 or 2 but I was referred to The Royal Marsden for further investigations."
"I went to The Royal Marsden in Sutton for a CT scan and MRI. Once the results of these tests came back, my oncologist – Dr Susan Lalondrelle, who has been wonderful throughout -confirmed the cancer was Stage 3 as it had spread to the lymph nodes."
"Being told you have cancer absolutely rocks your world. It's a huge shock and your immediate thought is - am I going to die? My main concern was I couldn't leave my teenage son, husband and family as I didn't know how they would cope if they lost me. It was devastating but everyone I spoke to said I couldn't be under the care of a better hospital. I knew I was in the best hands being at The Royal Marsden."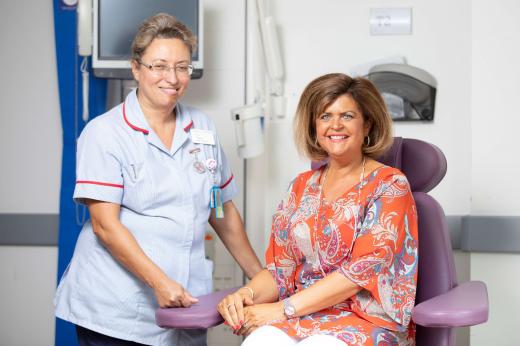 "I started receiving weekly chemotherapy and daily radiotherapy. Then I needed to stay in the hospital in Chelsea for a couple of days and have brachytherapy (a type of internal radiation therapy). When all that was finished, Dr Lalondrelle offered me the chance to go on a clinical trial to receive immunotherapy treatment in an infusion. I was told it would be an intense treatment, however, I was keen to go on the trial as this treatment has been proven in other types of  cancer, to help stop the cancer recurring. I was told there was a 40% chance of my cancer coming back so I wanted to take the opportunity to do whatever I could to stop this from happening."
Joining a Clinical Trial at The Royal Marsden's West Wing Clinical Research Centre.
Louise was able to enrol onto a clinical trial at The Royal Marsden's West Wing Clinical Research Centre. Here, Louise receives an immunotherapy infusion called Keytrunda, or Pembrolizumab, which harnesses the body's immune system to help it recognise and attack cancer cells.
"I started the trial in September 2021 and I'm due to be on the trial for at least two years. I come into the hospital every 6 weeks for my immunotherapy infusion. I receive my treatment in the West Wing so get to see all the lovely nurses there very regularly. The nurses make your time there the best it can be, they always have a smile on their faces. I couldn't ask for a better team to be looking after me!"
"I also have an MRI and PET-CT scan every three months to monitor how I'm doing. I have regular hospital appointments too, which is really reassuring as I know any concerns I have will be addressed. My most recent scan results were all clear which was such a relief and a wonderful early Christmas present!"
"I feel very lucky to have been offered the opportunity and really hope it makes a difference. I also thought that taking part in this trial could help other patients like me in the future."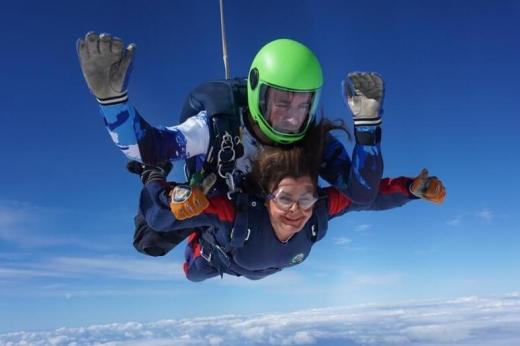 Skydiving for the Oak Cancer Centre Appeal
Recently, Louise took part in our Summer Skydive, raising over £7,000 for The Royal Marsden Cancer Charity's Oak Cancer Centre Appeal. 
"I would never normally have wanted to jump out of a plane as I'm scared of heights, but I wanted to do something positive for The Royal Marsden and to give back something for all the amazing and exceptional care I have been shown."
"My fundraising is going towards building the Oak Cancer Centre. It's so important to fund research and keep this going, keep it moving forward. When I read about the Oak Cancer Centre and what this will be doing to help patients and all the research that can take place there, I knew I wanted my fundraising to help support this, it sounds like it will be an amazing place! I want to continue fundraising for The Royal Marsden Cancer Charity, I've been thinking of what I can do next - I've got a few ideas already!"
The West Wing Clinical Research Centre, was originally funded by gifts left in Wills to The Royal Marsden Cancer Charity. 
Gifts in Wills support the hospital's pioneering research, giving hope to more cancer patients like Louise across the UK and around the world.
Find out more about Gifts in Wills here.
Discover more inspiring stories on our Blog