Sally's story "If it wasn't for The Royal Marsden, I wouldn't be here" 
50 year-old Sally, wife and mother to two young daughters was diagnosed with central nervous system lymphoma in 2019 after having had a suspected stroke.
Sally told us about her experience and how funding from The Royal Marsden Cancer Charity supported her treatment journey.  
Initial diagnosis 
"It all started in September 2018. I hadn't felt right for a while and had been experiencing terrible migraines and dizziness. I just wasn't myself and the headaches were getting worse."  
After a brain biopsy in 2019, Sally was diagnosed with central nervous system lymphoma and was referred to The Royal Marsden under the care of Professor Ian Chau.   
"When I was told it was CNS lymphoma it didn't really mean anything to me until later, I just knew I had cancer in my brain and there were three lesions."  
A lymphoma is a tumour caused by the uncontrolled growth of the lymph cells (a type of white blood cell which helps the body fight infection) and rarely, a lymphoma can form in other places, such as the central nervous system (CNS).  
"Walking into The Royal Marsden was the first time I really felt safe, the teams were all absolutely brilliant. I started my matrix chemotherapy straight away and was told they were putting me in for a stem cell transplant afterwards. From March until the end of June I had to have four rounds of chemotherapy and stay in hospital for three weeks after each round. "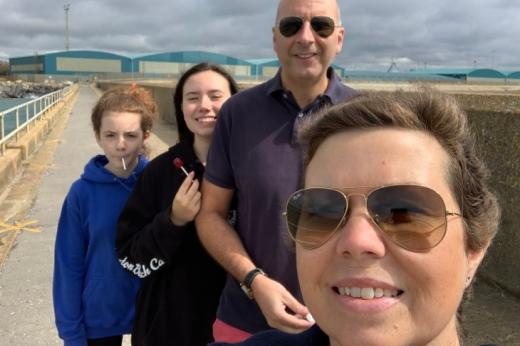 New imaging techniques 
Sally underwent a stem cell transplant after her chemotherapy treatment, all the while having regular PET scans and MRI scans so teams could monitor her.   
The hospital, supported by funding from The Royal Marsden Cancer Charity, is trialling innovative new imaging tools which support this monitoring process, aiming to improve detection of cancer for patients with brain tumours and brain lymphomas. Contrast Clearance Analysis (CCA), also known as Treatment Response Assessment Maps (TRAMs) is a new MRI method which maps out any active cancer, showing these areas much more clearly on a scan in vibrant colours, to enable clinicians to identify areas of concern. Sally was one of the first patients to have the TRAMS MRI method of scanning, allowing radiologists and clinical teams to make more informed decisions on her ongoing treatment plan and care.   
Results from these new imaging tools highlighted Sally's risk of progression after going through chemotherapy the first time and she was put onto a different treatment to help get rid of as many cancer cells as possible before undergoing her stem cell transplant procedure.   
In February 2020 Sally was told she was lymphoma free and she remains in remission today.   
As soon as I got the news that my scans were clear, I almost collapsed. The relief, I can't tell you what it was like. It was like I had a chance to live a life I didn't think I had. It was beyond amazing. I can't express how thankful I am that I can see my kids go to school and return to living a normal life. If it wasn't for The Royal Marsden, I wouldn't be here.
Support us
Donate to support more patients like Sally