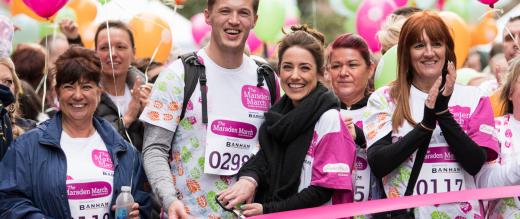 Emmy and Jake - true love (and lobsters)
Amazing supporters Emmy and Jake raised more than £150,000 for The Royal Marsden Cancer Charity. Emmy, diagnosed with incurable thyroid cancer, and husband Jake cycled 2,000km from London to Copenhagen.
Pride of Britain
In October 2017 Jake Coates won a Pride of Britain award in the category 'ITV Fundraiser'. Everyone at the The Royal Marsden is immensely proud of Jake.
In 2016 Jake and Emmy won Fundraising Team of the Year at the JustGiving awards.
Everyone at The Royal Marsden was saddened to hear about the passing of Emmy in June 2017.
Emmy was an incredible woman and will be missed by everyone at the hospital and at The Royal Marsden Cancer Charity. Our thoughts are with Jake, with Emmy's family, and with their friends. We are so proud to have known and worked with Emmy. Her legacy will certainly live on for a long time to come
Although Emmy had been diagnosed with a rare and incurable cancer, she wanted to help raise money for for The Royal Marsden. So she and her husband Jake decided to do a sponsored tandem bike ride all the way from London to Copenhagen.
Childhood sweethearts
Emmy and Jake were friends since childhood. At 13 years old he called her his 'lobster', and when they were 16 they started dating. They went their separate ways for a while when they both went to university but got back in touch ten years later. And fell in love.
The couple were soon planning their lives together, but Emmy had been experiencing symptoms, including feeling very tired, irregular bowel habits and unexplained aches and pains.
She was diagnosed with medullary thyroid cancer in March 2016. It had unfortunately spread to her spine, lungs, liver and bones.
Undaunted, Jake proposed the very next day, over a cup of tea in bed.
It's very rare...
less than 1 in 10
thyroid cancers
are medullary thyroid cancer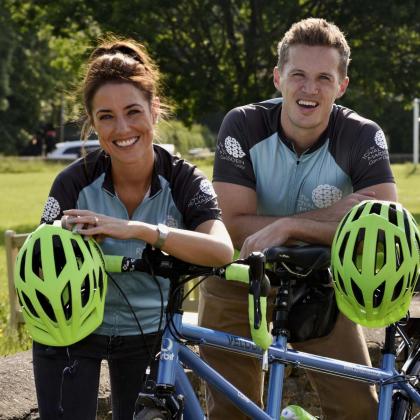 Tandemonium!
Emmy was referred to The Royal Marsden for treatment where she received a daily chemotherapy drug to slow the disease down. The drug had been unavailable five years before.
The couple then decided to raise awareness of the disease, as well as funds for the hospital, by doing Emmy & Jake's Tandemonium - a 2,000 km sponsored tandem bike ride from London to Copenhagen in June 2016. And this raised more than £115,000!
They got married in September the same year and, in March 2017, our superstar supporters stood in front of the crowds and media to cut the ribbon at the start of our landmark event The Marsden March.
Believe it or not I am happier than ever. Love truly is the best drug and I have been totally smothered in it.
Getting the message out there
Emmy had always been very grateful to the hospital for the care she has received.
They treat everyone as a VIP and everything is done efficiently, with urgency, and at the optimum level.

I am incredibly lucky to have a specialist oncologist and specialist nurse leading my case who are just phenomenal in every way.

I hope my story can give others hope. I feel blessed to have an opportunity to try to prevent anyone else finding themselves in a similar situation.
How you can help
Thanks to your support, we're able to research pioneering drugs and offer them to patients like Emmy.
Please help us to continue that work.