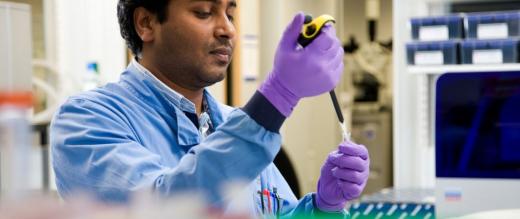 ​Pioneering research saves lives
Our NIHR Centre for Molecular Pathology brings cancer experts together under one roof, speeding up research and developing new treatments.
With your support, the centre can turn scientific discoveries into life-saving cancer treatments. Make a donation to support our continuing work. 
A new approach to treating cancer
The NIHR Centre for Molecular Pathology (CMP) brings together clinicians, geneticists, pathologists, and scientists from The Royal Marsden and The Institute of Cancer Research.
Working side-by-side gives them a better understanding of the different types of cancer tumours, and the most effective ways to treat them.
This deeper understanding is now leading to faster development of personalised treatment plans for cancer patients in the UK and worldwide.
The CMP team works hard to find different ways to ensure that every patient's treatment can be tailored to achieve the best outcomes
Tailored cancer treatments
We know that patients with the same cancer can respond differently to the same treatment. This is caused by differences in the genetic mutations in individual tumours, and within a person's own genes.
Molecular diagnostics carried out by the centre look for these genetic mutations to help us work out who would benefit from being given certain types of drugs or therapies.
Treatment can then be tailored to suit individuals, rather than using a conventional one-size-fits all approach with chemotherapy.
Since 2007
114,000 individual samples
have been tested by molecular diagnostics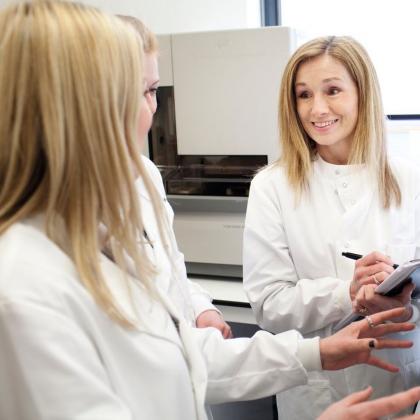 "A personalised approach for patients"
"Genome sequencing is more sensitive and quicker than other methods, as many genes can be tested at once; it's a quicker and less-expensive process" says Dr Lisa Thompson, Head of Clinical Genomics (Diagnostics) at the centre. "By pinpointing mutations in patients' tumour genes, we are able identify specific forms of treatment.
"Working with the clinicians, we can then identify whether patients are eligible for trials, or how and why they respond to new treatments. It all contributes to a personalised approach for patients."
Support our work
With your help, we can continue to invest in new technology that is changing the way we diagnose and treat cancer