Summer Skydive
Ever wondered what it feels like to jump out of a plane and free fall at over 120mph through the air? Well why not join us for our Summer Skydive for a once-in-a-lifetime experience and raise vital funds for cancer patients here and across the world.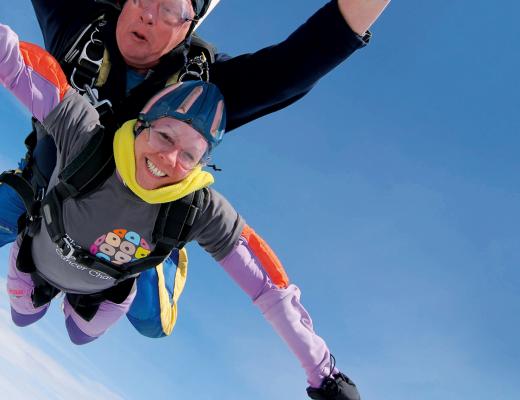 Event type
Parachute Jump
Fundraising target
£395.00
Sign up now to take part in the Summer Skydive, and help us raise vital funds for our appeal to build the Oak Cancer Centre, which will transform the lives of cancer patients at The Royal Marsden and around the world.
The thrill of a lifetime 
Think you've got what it takes to leap into the void? Sign up and join us on the 4th June 2022 and meet like-minded adventurers as you all experience something you'll never forget. 
You will experience the thrill of speeding through the air at 120mph for 5,000 feet before parachuting down to the ground and steering onto the drop zone.
These jumps are tandem so you will be attached to a professional freefall parachute instructor at all times - no previous experience is necessary, just an instinct for fun! Our team will be there on the day to support you as you take on this brave challenge. 
Fundraising Support
As part of Team Marsden you will receive:
a fundraising pack
a charity t-shirt for you to wear on the big day
dedicated fundraising support and advice to help you reach your fundraising target
in person support on the day as you prepare to take the leap!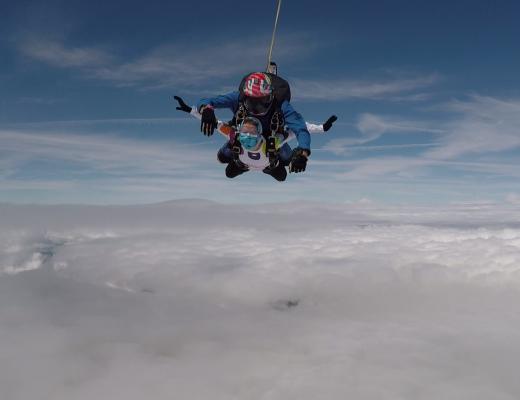 What's skydiving really like?
Stephanie took part in a charity skydive earlier this year and has shared with us what it really feels like and why you should take the plunge and get involved:
"Jumping out of the plane never felt safer as I was strapped to an instructor who had experienced over 6000 jumps.
 Looking at the view was the most rewarding part and knowing I'd done all of this for such a worthy cause was the icing on the cake.
If you're thinking about taking part in a skydive, I would say without a shadow of doubt, do it. I was very nervous the night before but the adrenaline kicks in and the cause gets you through the fear.
What better way to tick something off on your bucket list than to help such an incredible cause in the process."
Can't make the date for the Summer Skydive?
If you would like to take part in a charity skydive for us, but aren't available to join us on the 4th June 2022, why not pick a date that suits you?
Skydives are available to book throughout the year and at various airfields across the country.
Find out more about skydiving for us here.