Skydive!
You too can experience the thrill of a lifetime and the sheer exhilaration of a 120mph freefall whilst raising money for a valuable cause.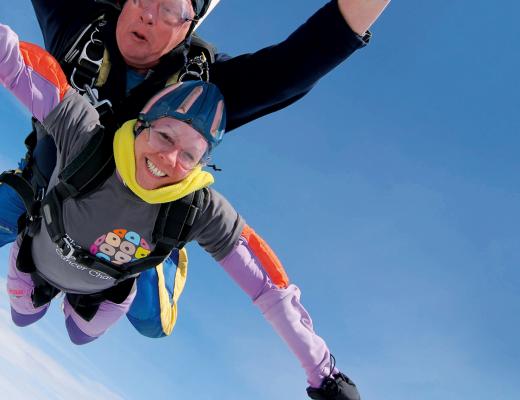 Event type
Parachute Jump
Take to the skies!
Skydiving is now a popular activity and not just for those daredevils amongst us. 
Jumps can be done for us in Salisbury or at various different airfields across the country.
Cost and sponsorship
Option 1
Parachute jumpers pay a £70 booking deposit to Skyline and raise a minimum of £395. This amount must have been raised two weeks before the jump date and covers the jump costs plus a donation so that we can enable The Royal Marsden to remain at the forefront of cancer treatment and research.
Option 2
Alternatively if you want The Royal Marsden Cancer Charity to receive 100% of your sponsorship as a donation, you can choose to fund your own jump costs.
Pay a £70 booking deposit to Skyline, plus an additional £200-£250 (depending on the airfield) to cover your jump. Then you can raise as much as you like for us!
Help is at hand!
With support from our fundraising team, we can help you get prepared for your big jump day. We can also send you:
fundraising materials and ideas
a t-shirt to do your skydive in
advice on how to reach your fundraising target
Already got your own place?
Have you got your own place on this event but still want to be part of Team Marsden and raise money to help people with cancer here and across the world? Just get in touch and let us know. 
Register your interest today