Miranda's story - PRIDE month
This June for PRIDE month, 39 year old Miranda shares her story to raise awareness of secondary breast cancer and cancer representation as a black woman in the LGBTQ+ community.
June is Pride month – a celebration of the lesbian, gay, bisexual, transgender and queer (LGBTQ+) community. Pride month celebrates LGBTQ+ people in all their diversity, raises awareness, and combats prejudice with education.
39-year-old Miranda, a secondary breast cancer patient at The Royal Marsden, was initially diagnosed in August 2014 when she was 32 years old. She is sharing her story this month to raise awareness of secondary breast cancer and cancer representation as a black woman in the LGBTQ+ community.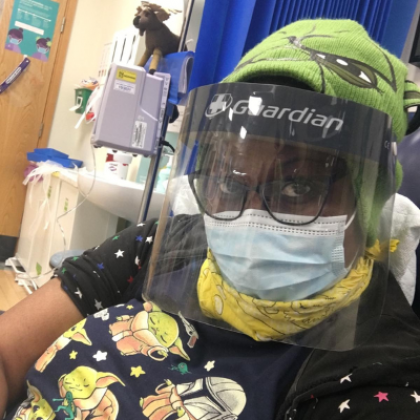 "Breast cancer runs in my family so I've always been vigilant with checking myself and keeping an eye on any changes in my body. My mum's two sisters in Ghana had breast cancer and were treated out there. One day I was lying in bed and found a lump in my left breast. I went to the doctors straight away and they referred me to the hospital."
"After an ultrasound, mammogram and a biopsy, I got my diagnosis - primary breast cancer. Even though cancer runs in my family, it was still a shock to hear this, especially at such a young age."
Beginning treatment at The Royal Marsden
Miranda was referred to The Royal Marsden and underwent a lumpectomy, radiotherapy and chemotherapy before going into remission in November 2015. After a period of remission, Miranda fell ill again and was diagnosed with secondary breast cancer in February 2019. She was told it was stage 4 as it had spread to other parts of her body.
"I got my secondary breast cancer diagnosis on Valentine's Day, around the same time as the 5 year anniversary of my dad's death. I was going through so much. Even though you worry so much about it coming back, it was still a shock to get a secondary diagnosis. I thought I was just fatigued from overdoing it at the gym. In one way it felt like a relief as you're so anxious about the cancer recurrence that when it actually does come back, at least you can get on with the next steps of treatment."
"I started chemotherapy again at The Royal Marsden and was hospitalised four times during the year as I was so poorly. Luckily, I managed to make it out of hospital for the Queen's Garden Party which I'd won tickets for – I was determined not to miss this."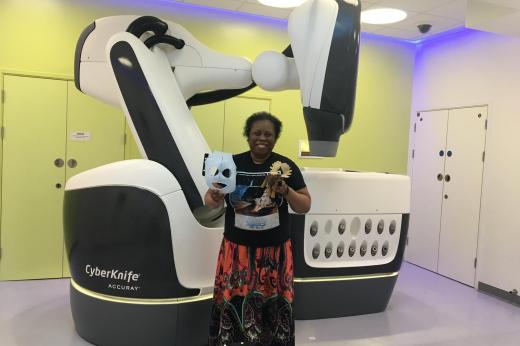 Cyberknife radiotherapy at The Royal Marsden
Miranda underwent CyberKnife radiotherapy for the tumours which had spread to her brain, technology funded by The Royal Marsden Cancer Charity. Since receiving this treatment, one tumour is showing as dormant and the other three have shrunk considerably.
"I was very glad not to be having an operation to target the brain mets as this would have involved cutting my head open. I had three sessions on the CyberKnife instead. I asked the team if they had a name for the machine, I wanted to call it Gertrude! The CyberKnife sessions were about 45 minutes long each time. I thought they'd be painful but I didn't feel anything."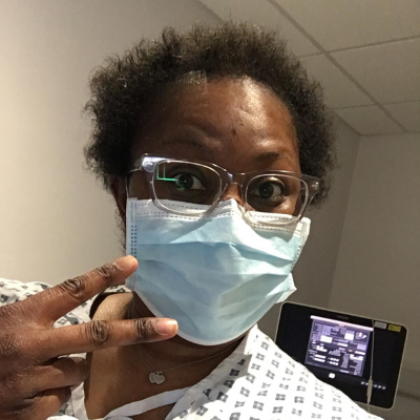 Miranda has been on a number of different chemotherapy treatments which are currently keeping her condition stable and have reduced the cancer which had spread to her liver so much that there is now no evidence of disease in this area of her body.
"Navigating the realities of cancer is hard and I want to raise awareness of my story to try and help others. There aren't many people like me who are black, identify as a woman and on the LGBTQ+ spectrum who share their cancer stories so openly. It's important to raise awareness, to educate people and let them know the realities of a cancer diagnosis and living with cancer. The highs and the lows."
Raising awareness of cancer in the LGBTQ+ community
"Representation really matters. I was diagnosed with primary breast cancer at 32 and secondary at 37, which surprises people. But cancer doesn't discriminate. It doesn't matter about age, if you're black, or LGBTQ, or non-binary, or disabled. If you're going to get it, you're going to get it.
Raising awareness of cancer in the LGBTQ+ community is so important. Early diagnosis for trans people can often be missed if they don't attend their cervical or prostate checks or when they're not invited to attend. I think more can be done with raising awareness in these areas.
Nurses who wear the rainbow lanyards and badges make patients feel comfortable to talk about their sexuality and any issues they want to discuss which might be more sensitive, it's important for people to feel comfortable when having these conversations."
"If I had to give a piece of advice to someone that has newly been diagnosed, I would say to make use of support groups, avoid self-diagnosis, go to official charities for information, research, advocacy, and talk to friends and family for much needed support.
I take my pills, I have my treatment, and I get on with it as best I can. But I'm not just a cancer statistic. I'm still a person, and I want to continue doing what I can to make a difference for other people like me."
Celebrating 40 by taking to the skies
This September, Miranda is taking part in a skydive to mark her 40th birthday and raise money for The Royal Marsden Cancer Charity.
"The Royal Marsden have been fantastic. I don't feel lucky to have cancer but I feel lucky being a patient at The Royal Marsden; being at this hospital for my care is definitely reassuring. I signed up to take part in the skydive to celebrate my 40th birthday and to say thank you to The Royal Marsden for everything they've done for me."
Discover more inspiring stories on our blog