Sibling support – Lea's fundraising story for The Royal Marsden
From a sponsored head shave to the Banham Marsden March, read more about our fantastic Royal Marsden fundraiser, Lea Ryan.
Lea first supported The Royal Marsden Cancer Charity in September 2022 after her brother, Mark, was diagnosed with stage 4 pancreatic cancer in March the same year.
She bravely organised a sponsored head shave: "My motivation to support The Royal Marsden came from when my brother was diagnosed with stage 4 pancreatic cancer aged 36."
"The treatment and support that he has received from The Royal Marsden has been second to none. I am so grateful for what they have done so far to help him and want to show them my everlasting gratitude."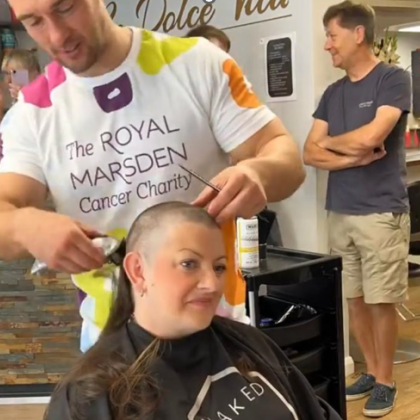 "On the day of my head shave I felt nervous about what I would look like but that was quickly overcome with feelings of pride to support my brother. I wanted to show him that we are all behind him and love him and support him."
"I couldn't wait to have it done so that I could post it on my page and to then see the donations coming in."
Lea raised an incredible £1,700 from her head shave.
Future Fundraising for The Royal Marsden Cancer Charity
Lea isn't finished with fundraising and was already thinking of more ways to support us before she'd even completed her head shave!
"I would say to anyone thinking of fundraising for The Royal Marsden Cancer Charity is to just go for it! The support from them is fantastic, they are always there to help and are so enthusiastic about what you are doing. It makes it an absolute pleasure and honour, so much so I am thinking of new ways that I can fundraise again."
Alongside friends and family, Lea went on to participate in the 2023 Banham Marsden March. They joined over 4,000 other participants to walk 15 miles between The Royal Marsden Hospital in Chelsea and the site in Sutton, contributing to the amazing fundraising total of £1.4 million.
Talking about the experience of the day, Lea said: "I found the Banham walk absolutely brilliant. It was really well organised, and it felt really comforting to be walking with people that are going through the same issues that I am or if not similar."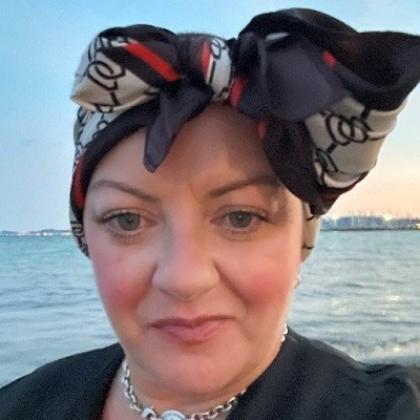 "It felt really lovely to be part of something like that. It can be quite lonely and isolating going through a cancer diagnosis, whether it's for yourself or a family member or someone close to you, so I felt that it was so supportive and uplifting to come together as a group."
"You feel a real sense of belonging to walk together, and also a sense of achievement knowing that I'm helping to fund the amazing work that's been done at The Royal Marsden." 
The total fundraised in support of Lea's brother mark is over £60,000! A huge thank you to Lea and her friends and family for the incredible fundraising efforts. 
Top Fundraising Tips
Inspired by Lea to create your own fundraising event, but not sure where to start? Here are our top three fundraising tips:
Make it social. Whether you're hosting a coffee morning, football match, or pub quiz, get those you know involved. By inviting friends and family on the day, Lea made her head shave a day to remember.
Set up a Just Giving Page. Fundraisers like Lea with an online fundraising page raise significantly more than those without. Check out this guide for setting up your own Just Giving page.
Let Us Know. Lea says: "I would definitely recommend making contact with The Royal Marsden fundraising department - they are so supportive of what you're doing and can supply you with resources that you need for your events such as t-shirts, caps, posters, whatever you need, they also offer encouragement and support."