Michael and Pip's story: "it's so important that we continue to fund as much research as we can."
Michael Ryley's late partner Pip was treated with CyberKnife at The Royal Marsden for stage 4 lung cancer. Pip left a gift in her Will to The Royal Marsden Cancer Charity, which has inspired Michael to do the same.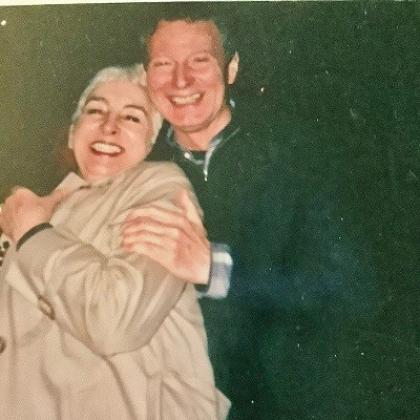 "Pip was, and still is, the love of my life," says Michael. "We were always happy just the two of us, always chatting and laughing. We'd been together for 18 years, but first met around 35 years ago. I struggle to define her in just a few words, but one that always jumps out at me is 'generous' – Pip was such a generous person.
"Pip was keen to leave a gift in her Will for The Royal Marsden Cancer Charity to help fund research. I'm so proud of her for what she's done – it's definitely a comfort to know that she could be helping to save someone's life in the future."
Pip's treatment with CyberKnife radiotherapy
Pip was diagnosed with lung cancer in April 2019, and it was discovered that the cancer had also spread to her brain. Following surgery, chemotherapy and immunotherapy at her local hospital, she was referred to The Royal Marsden for CyberKnife radiotherapy.
CyberKnife is a state-of-the-art machine which was funded by The Royal Marsden Cancer Charity. It uses a robotic arm to deliver radiotherapy with pinpoint accuracy, meaning less healthy tissue is damaged, fewer treatment sessions are needed and patients can spend less time in hospital.
"Pip was so grateful and impressed with the care and treatment she had at The Royal Marsden," says Michael. "She was doing well on her treatment and having regular scans and monitoring. But, around April 2021, I could see that things weren't looking so great and she was starting to have more health problems. Sadly, Pip passed away in June 2021."
The importance of early diagnosis
"Pip recognised that research, especially into early diagnosis, is so important. She had absolutely no symptoms of her lung cancer until she had a seizure one day. By this point the cancer had progressed to her brain and things were quite advanced."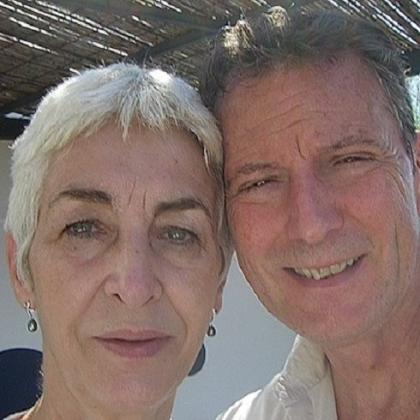 Thanks to our generous supporters, The Royal Marsden Cancer Charity has funded a new virtual Early Diagnosis and Detection Centre. Researchers are using the latest screening technologies combined with Artificial Intelligence (AI) to identify people who are at higher risk of cancer with the aim of diagnosing them earlier.
"I think research is the ultimate answer," says Michael. "I know it's not simple with cancer, but it's a start to try and direct all your efforts into trying to find the best treatments and helping people. But this all takes money, so it's so important that we continue to fund as much research as we can."   
By leaving a gift in your Will to The Royal Marsden Cancer Charity, you'll make a lasting difference.
Gifts in Wills support The Royal Marsden's pioneering research, helping to improve the lives of cancer patients everywhere. Find out more about how your gift will help.
Discover more inspiring stories like Michael and Pip's.