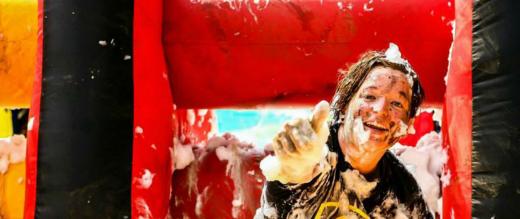 The Gauntlet Games
A fun and exciting obstacle race. Choose between the 5K or 10K distance and take on giant inflatables, slides, foam, real gladiators and much more. Ideal for beginners, this is a great race to do with your friends!
Get a team together to run the Gauntlet!
If you are new to obstacle races this is an ideal starting place. Whichever distance you choose the Gauntlet Games will have you short of breath as much through giggling as exertion - whether because you 'fell in the drink', slid backwards or got covered head to toe in foam or mud. It's an experience that you'll never forget and a brilliant way to fundraise for a fantastic cause. 
Going the distance
Depending on which distance you do there we have different fundraising targets.
5K fundraising target: £100
10K fundraising target: £150
Find out more on the organiser's website
Already got your own place?
Have you got your own place on this event but still want to be part of Team Marsden and raise money to help people with cancer here and across the world? Just get in touch and let us know.