Carol's story- 'Why I'm giving back to the future'
Since being diagnosed with breast cancer in 2013 and again in 2017, Carol Pitches has been treated at The Royal Marsden. She has responded well to treatment, which has helped to slow and manage her cancer.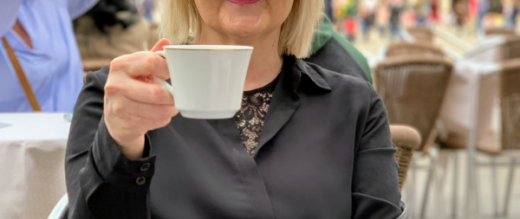 Carol said she's been overwhelmed by the empathy of the staff. "Going through a cancer diagnosis is one thing, but the holistic approach the staff at The Royal Marsden take to helping you cope through the experience has been overwhelming. They are incredibly focused on not just your treatment, but your wellbeing as well.
"And it's not just about outstanding care; the advancements they are making through research are truly groundbreaking. It's so reassuring to know I'm receiving the best possible treatment, which is why I want to help other people affected by cancer.
"I'd been thinking long and hard about my own legacy, and I'm especially passionate about equipping the next generation in the best way we can – whether that's through sponsoring studies, education or fellowships.
"I'm immensely proud to leave a gift in my Will to The Royal Marsden Cancer Charity, knowing it will contribute to transforming lives of cancer patients for years to come.
I know I'm in the best possible hands at The Royal Marsden, which really takes a load off my mind, I want to make sure as many people as possible who come after me can also have that peace of mind and support.
Give back to the future
Find out more about how leaving a gift in your Will can make a difference to the lives of people affected by cancer.